UK Deputy Prime Minister: More lifesaving UK aid for devastated areas in South Pakistan
The UK's Deputy Prime Minister Nick Clegg today announced how lifesaving aid from the UK will be allocated while visiting Sukkur, south Pakistan, the region now worst affected by the monsoon rains.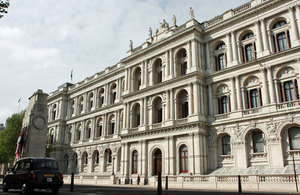 The aid will be targeted at Punjab and Sindh, and includes:
• 2,330 water pumps/points to provide safe drinking water for hundreds of thousands of people;
• 1,150 private bathing facilities, benefiting thousands of people particularly women;
• Emergency shelter kits for around 30,500 families - provide shelter for more than 152,000 people;
• Around 5,000 toilets installed/repaired, for use by some quarter of a million people;
• Hygiene kits for about 75,000 families, containing for example bath, dish and laundry soap, disinfectant, women's sanitary materials, tooth brush/paste, towel, comb;
• 650 new born baby kits, containing baby vests, baby shampoo and soap, baby blankets etc; and
• Spades, picks, and wheelbarrows to help 16,000 families remove debris from their homes.
The UK Government will allocate £9 million (Rs 1.1bn) to Save the Children, Concern, and Oxfam to provide and distribute the aid items announced today. The money comes from the £33 million (Rs 4.3bn) announced by Development Secretary Andrew Mitchell at the UN in New York on 19 August 2010.
The Deputy Prime Minister is in Pakistan to see for himself the devastation caused by the floods, ahead of attending the Millennium Development Goals summit in New York in a few weeks. In Sukkur, he visited a World Food Programme store house and met with Oxfam, Save the Children, and other UN and aid agencies.
Speaking from Sukkur, South Pakistan, UK Deputy Prime Minister Nick Clegg, said:
"It's now one month since the monsoon floods started, and the disaster in Pakistan is getting worse.
"The coming days and weeks are critical; millions of people in Punjab and Sindh in the south of Pakistan have lost their homes and are facing hunger and illness unless they get vital help right now.
"That's why today I can confirm that the UK will push out more emergency aid over the coming days in what is now the worst affected area of Pakistan, including safe drinking water, toilets, emergency shelter, water pumps, and other lifesaving items."
Andrew Mitchell, Secretary of State for International Development, said:
"The situation in south Pakistan is dire. That's why we're funding Save the Children, Oxfam, and Concern to get lifesaving aid to hundreds of thousands of people over the coming days to where it's needed most urgently in Punjab and Sindh."
Over the last few days two UK Royal Air Force planes have delivered more emergency shelter for 3,500 families in the south of Pakistan. This is in addition to three previous DFID-funded RAF flights and four DFID-chartered commercial flights, making a total of nine DFID-funded flights delivered vital aid items including tents, food and medical supplies.
The British Government has now committed £64 million (more than 8.5 billion rupees) to help people in Pakistan affected by the floods. In addition, the UK public has donated £40million (more than five billion rupees) out of their own pockets to the Disasters Emergency Committee (DEC). This will help millions of people in Pakistan access safe drinking water, toilets, emergency shelter, health care, and other essentials.
A summary of the UK Government's contributions to date can be viewed here: www.dfid.gov.uk/Media-Room/News-Stories/2010/Floods-in-Pakistan/
People can track where and how UK aid is helping the survivors of floods in Pakistan here: www.dfid.gov.uk/pakistanfloodsmonitor2010
Published 1 September 2010