Press release
UK delivers tents for displaced families in northern Iraq
Britain has delivered hundreds of tents and supplies of high nutrition emergency food for displaced families in northern Iraq, International Development Secretary Justine Greening announced today.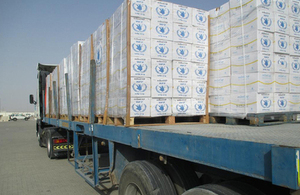 Two Department for International Development-chartered Airbus cargo flights landed in Erbil today carrying 45 tonnes of "Plumpy'Doz" food from the World Food Programme (WFP) and 515 family-sized tents from DFID's warehouse in Dubai.
Plumpy'Doz is a highly nutritious peanut-based food supplement designed to provide essential calories, proteins, fats, vitamins and minerals for under-nourished children. The 45 tonnes delivered today will assist the nutritional needs of 32,000 children for a month.
The DFID tents will provide shelter now and through the winter months for 2,575 people. These lifesaving humanitarian supplies will be distributed by charities and UN agencies to people cut off from their homes in camps across the Dahuk region of northern Iraq.
There are now approximately half a million displaced people in the Dahuk region, which represents almost half of the total original population. Many of the displaced Iraqis arriving in the area have travelled for days without food and water in high temperatures and face the prospect of spending the coming months in makeshift refugee camps.
Justine Greening said:
The UK continues to deliver essential aid supplies to deal with the worsening humanitarian situation in towns across northern Iraq. These hundreds of DFID tents will provide families who have lost everything with decent shelter now, as well as during the colder winter months, and the high nutrition food we have flown to Iraq on behalf of the World Food Programme will provide nutrition for thousands of children.

Many of these are the displaced Iraqis who managed to escape Mount Sinjar by walking many miles in searing heat. They have shown immense courage and been through unimaginable hardships. The UK is committed to supporting them.
Both flights set off from Dubai, where the Department for International Development has its main aid stockpile. This, along with an aid warehouse in Kemble, Gloucestershire, is a hub that stores life-saving support and allows the UK to deploy vital aid at very short notice to people who desperately need it.
The UK has so far committed £13 million in new assistance in response to the crisis in Iraq.
In addition to today's aid deliveries, the UK delivered 8,000 kitchen sets which include cutlery, cooking pots, plates, frying pans, cups and wooden spoons to Erbil on Saturday 16 August. These sets will enable almost 40,000 people, who currently have to queue at makeshift canteens, to cook for themselves and feed their families.
The Royal Air Force (RAF) has made seven successful air drops of UK aid over Mount Sinjar including water containers, solar lamps and shelter kits.
See latest updates on the UK government's response to the Iraq crisis
Notes to editors
In addition to the £5 million aid for Iraq announced in June, the £8 million package announced by Justine Greening on 8 August has provided:
£2 million of emergency humanitarian supplies for 75,000 people, including aid which has been air dropped to help those trapped in the Sinjar Mountains
£3 million of fast-tracked funding that has gone to charities and NGOs who are already on the ground and helping displaced people in northern Iraq
£2.5 million of support for the International Committee of the Red Cross (ICRC) to provide immediate medical and humanitarian assistance
a further £500,000 that will ensure Kurdish and UN systems are able to coordinate and respond to humanitarian needs in the region
The seven air drops for those trapped on Mount Sinjar have provided over 80 tonnes of aid, including 9,420 water purification containers, 1,056 solar lanterns, and 1,008 shelter kits. This was dropped as follows:
Saturday 9 August: 1,200 reusable water containers, providing 6,000 litres in total, and 240 solar lanterns that can also be used to recharge mobile phones
Monday 11 August: 3,180 reusable water purification containers filled with clean water (15,900 litres of water in total) and 816 solar lamps
Tuesday 12 August: 2,640 reusable water purification containers filled with clean water (13,200 litres of water in total) and 528 shelter kits to provide shade in temperatures of 50°C
Wednesday 13 August: 2,400 reusable water purification containers filled with clean water (13,200 litres of water in total) and 480 shelter kits
General media queries
Follow the DFID Media office on Twitter - @DFID_Press
Published 20 August 2014