News story
UK Defence Secretary in Singapore
Philip Hammond attended an international security summit and met HMS Echo's ship's company during a visit to Singapore at the weekend.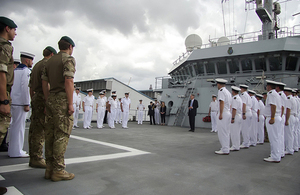 The Defence Secretary attended the 13th International Institute for Strategic Studies Asia security summit in Singapore, which provides a forum for dialogue to foster regional security co-operation.
He met with key regional allies, including ministers from Singapore, Australia and New Zealand, to discuss defence and military co-operation.
At the summit, Mr Hammond also met with his Malaysian counterpart, Mr Hishammuddin, to discuss the ongoing search on Tioman Island for missing Briton Gareth Huntley.
Mr Hammond said:
I raised the ongoing search on Tioman Island with the Malaysian government, and they assured me that they are doing everything they can to find Gareth. We will continue to keep in regular contact with the Malaysian civil authorities leading the search.
Whilst in Singapore, Mr Hammond also visited HMS Echo at the UK naval installation at Sembawang. The ship is on her way back from deployment in the southern Indian Ocean, where she had been searching for missing Malaysian airliner MH370.
Mr Hammond said:
HMS Echo and the ship's company can be very proud of the efforts put into the search for MH370. Along with those on board HMS Tireless, the Royal Navy demonstrated its reach and Britain's willingness to help its friends in times of need.

With both HMS Daring and HMS Illustrious having helped in the aftermath of Typhoon Haiyan last year, it is clear that the Royal Navy is playing an important role in the Asia-Pacific region.
Published 2 June 2014