News story
UK Defence Equipment Minister visits North East Asia
Philip Dunne has visited North East Asia to review growing equipment cooperation relationships with both Japan and the Republic of Korea.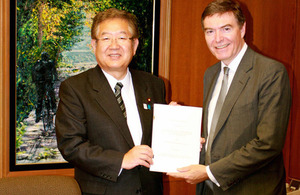 During his recent visit to Japan, Mr Dunne, the Minister for Defence Equipment, Support and Technology, met with his opposite number in the Japanese Ministry of Defence, Parliamentary Vice-Minister Akira Sato. The 2 countries have signed a Letter of Arrangement for the first collaborative project to be undertaken under the Defence Equipment Cooperation Framework.
This project, expected to be the first of many, will see personnel from the UK's Defence Science and Technology Laboratory working alongside their Japanese counterparts in the Technical Research and Development Institute (TRDI). The 2 partners will assess chemical and biological protective suits with a view to developing the latest impermeable materials which can also be used for the battlefield.
Mr Dunne said:
While small in scale, our work with the TRDI is the first step of what will become a strong relationship between our defence and security industries and a flourishing partnership between the UK and Japan.
Groundbreaking agreements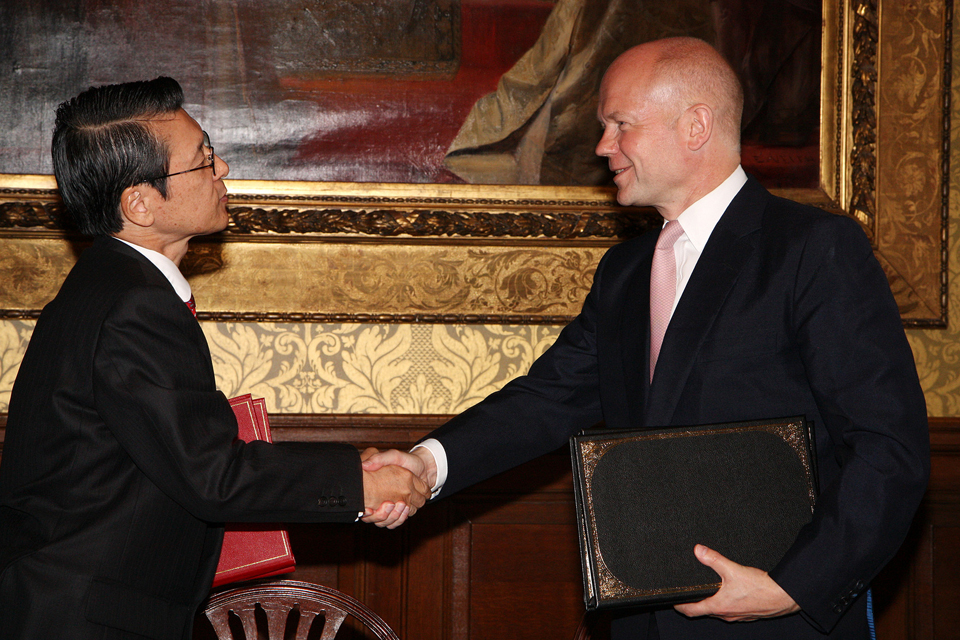 The Defence Equipment Cooperation Framework, signed by the Foreign Secretary in July, is the first agreement of its kind Japan has entered into since changes to its Guidelines on the Overseas Transfer of Defence Equipment. It opens up a number of opportunities for the 2 countries' governments and defence industries to work together.
As well as meeting with ministers for foreign affairs and for economy, trade and industry, Mr Dunne gave a speech to the Keidanren Japanese industry group, setting out a direction of greater cooperation on defence equipment between the UK and Japan.
Cooperation with Korea
In the Republic of Korea (South Korea), Mr Dunne met with Vice-Minister of National Defence Baek Seung-joo and the head of the Korean Defence Acquisition Program Administration, Lee Young-geol.
Mr Dunne discussed the productive 18 months of defence trade between the UK and Korea; most recently AgustaWestland's AW159 helicopter – designated the Lynx Wildcat in the UK Armed Forces – was selected to meet Korea's maritime operational helicopter requirement. This contract will help sustain several hundred jobs at AgustaWestland and in the UK supply chain.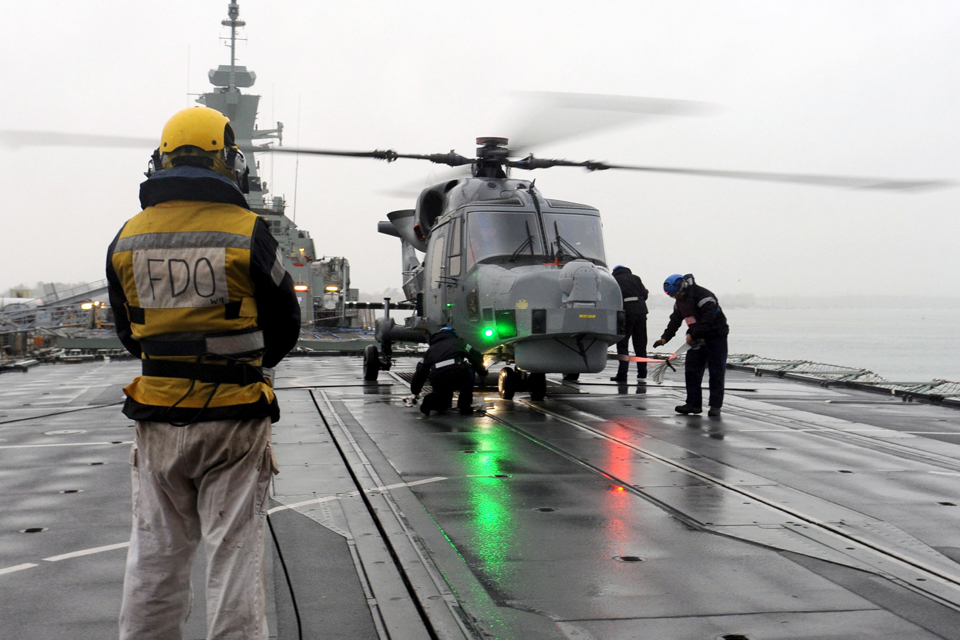 Mr Dunne and Minister Lee Young-geol discussed a variety of future opportunities for British and Korean industry to cooperate with each other, ranging from small-scale research and development programmes through to larger platform opportunities.
Mr Dunne also met with Park Dong-hyuk, Vice President of Daewoo Shipbuilding and Marine Engineering (DSME), who confirmed that the UK's new Military Afloat Reach and Sustainability tankers, being constructed by the Korean firm in Okpo in collaboration with British designers BMT, were on schedule. This project has also achieved export success, with a confirmed order from Norway and interest from a number of other nations, which will benefit both DSME and BMT.
Mr Dunne said:
This was a very timely, valuable and interesting trip. Responsible defence exports and international collaborations are an excellent way of boosting cooperation between our respective Armed Forces, increasing cross-border investment and creating jobs.

I believe our new agreement with Japan and fruitful relationship with [the Republic of] Korea will not only be good for economic growth, but will also help facilitate our countries' goals for security and peace across the world.
Published 14 August 2013
Last updated 15 August 2013
+ show all updates
Updated to include a paragraph on the tankers being built for the UK in Korea
Disambiguation of South Korea
First published.