UK deeply regrets sentencing of Syrian human rights activist
Muhannad Al Hassani, a Syrian Human Rights lawyer and winner the 2010 Martin Ennals award for human rights defenders, has been sentenced to three years in jail by the Syrian courts.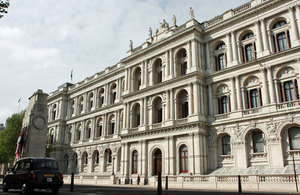 Speaking about Muhannad Al Hassani's case a Foreign and Commonwealth Office spokesperson said:
"On Wednesday 23 June Muhannad Al Hassani, a prominent Syrian human rights lawyer and activist, was handed a three year jail sentence by the Syrian courts for "spreading false information likely to weaken the morale of the nation". The UK deeply regrets this sentence and urges the Syrian government to overturn the decision and release Al Hassani.
We remain seriously concerned about the human rights situation in Syria and call on the Syrian government to fulfil all of its human rights obligations, and allow its citizens to practice the right to freedom of expression without fear of arbitrary arrest, intimidation and imprisonment."
Search the news archive
Published 25 June 2010