News story
UK deeply concerned by move to impeach Sri Lankan Chief Justice
United Kingdom calls on Sri Lankan government to respect democratic principles and safeguard Chief Justice and legal profession.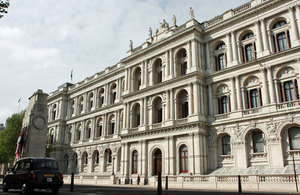 Commenting on the Sri Lankan Parliament's vote today to impeach the Chief Justice, a Foreign Office spokesperson said:
"The British Government is deeply concerned by the impeachment proceedings against Sri Lanka's Chief Justice Shirani Bandaranayake. We share the concerns already expressed by many people in Sri Lanka over both the process and related reports of the intimidation of members of the Sri Lankan Bar Association. The motion to impeach the Chief Justice runs contrary to the clear rulings of Sri Lanka's highest courts and the proceedings appear to contravene basic principles of fairness, due process and respect for the independence of the judiciary and the Commonwealth Latimer House Principles.
"Together with our international partners, we call on the Sri Lankan Government to respect democratic principles and the right to peaceful protest and to ensure the continued safety of Chief Justice Shirani Bandaranayake."
Published 11 January 2013