Press release
UK deeply concerned at imminent use of death penalty in Bangladesh
Baroness Warsi expresses concerns over imminent use of death penalty in Bangladesh.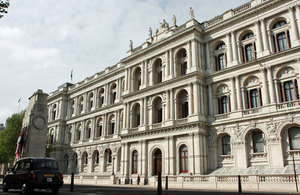 Senior Foreign Office Minister Baroness Warsi said:
I am deeply concerned at reports of plans to execute Abdul Qader Mollah in the coming days.

The UK opposes the death penalty in all circumstances as a matter of principle. We consider that its use undermines human dignity and that there is no conclusive evidence of its deterrent value. We further note that Abdul Qader Mollah was sentenced to death following an appeal permitted under retrospectively applied legislation, and that he was not permitted to review his sentence before the Supreme Court. Bangladesh's commitments under the International Covenant on Civil and Political Rights (ICCPR) require that all citizens be treated equally before the law.

The UK calls again for Bangladesh to implement a moratorium on the death penalty leading to the eventual abolition of the death penalty.
Further information
Follow Foreign Office Minister Baroness Warsi on twitter @SayeedaWarsi
Find out how the UK is working to persuade other countries to abolish the death penalty
Follow the Foreign Office on twitter @foreignoffice
Follow the Foreign Office on facebook and Google+
Published 10 December 2013