UK convenes London Conference on Libya
The UK has convened the London Conference on Libya on 29 March to discuss the situation in Libya with our allies and partners.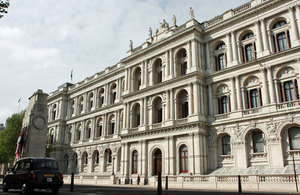 An immediate ceasefire, enforcement of the arms embargo and the no-fly zone and protection of civilians remain crucial. But we also need to look to the future.
The world has spoken clearly about the situation in Libya. Calls for action were led by the Arab League, the Organisation of the Islamic Conference (OIC) and the African Union. The UN Security Council has spoken in united condemnation of Qadhafi's actions.
Tuesday's conference will be attended by a wide and inclusive range of countries and international organisations that have demonstrated a commitment to a better future for the people of Libya, including all those who have already contributed to the military enforcement of UNSCR1973 and those that are considering doing so. The United Nations Secretary General Ban Ki Moon, Chairman of the African Union Jean Ping, US Secretary of State Clinton and the Foreign Ministers of over 35 other countries have already confirmed attendance.
The Conference will:
Demonstrate the international community's unity of purpose, bringing together a broad grouping of countries committed to a better future for the people of Libya;
Send an unequivocal message on behalf of the international community that we will continue to implement UNSCR 1973, including protecting the civilian population from violent attack. While this is not a pledging conference, we will of course welcome any new commitments to the implementation of all the elements of both UNSCR 1970 and 1973.
Forge a wide group looking at long-term support - including humanitarian assistance and international support to the people of Libya as they transition into the future. It is vital that we learn the lessons of the past and ensure early and co-ordinated international planning for the long term.
The Conference will begin to support a new political future for Libya. As the Arab League, African Union and EU have all said: Qadhafi and his regime have completely lost legitimacy.
We continue to work closely with key Libyan opposition figures including the Interim Transitional National Council (ITNC) who are legitimate political partners.
The United Kingdom continues to call for an immediate ceasefire and an end to violence against Libyan civilians. We will judge the Libyan regime by its actions and not its words. We will not ignore Qadhafi's actions and we will continue to support the Libyan people.
Published 27 March 2011