Press release
UK congratulates parties in Philippines on negotiation of peace agreement
William Hague welcomes comprehensive peace agreement in the Philippines and encourages quick and full implementation by all parties.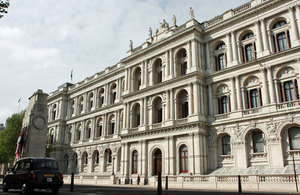 The Foreign Secretary William Hague sent a message of congratulations to the Philippines today:
The successful conclusion of negotiations between the Government of the Philippines and the Moro Islamic Liberation Front for a comprehensive peace agreement is a significant step towards lasting peace and development for Mindanao. Ending the long-running conflict will not just benefit the region, including Muslims, Christians and Indigenous Peoples of Mindanao, but is vital for the security and economic development of the Philippines as a whole. After the devastation wrought by Typhoon Yolanda, this positive news is all the more welcome.

Through the UK's membership of the International Contact Group we have witnessed the leadership and commitment of President Aquino and the courage and sincerity of the Leadership of the Moro Islamic Liberation Front. The UK is honoured to have been able to support the parties and Tengku Dato' Abdul Ghafar the Malaysian facilitator during the process.

As we know from our own experience, many of the most difficult challenges will emerge as the parties work towards implementing the agreement. But the courage and leadership shown by the parties gives great hope that these can be overcome and we are ready to provide whatever further support we can to help the people of Moro and the Philippines recover from this devastating conflict.
Further information
Follow the Foreign Secretary on twitter @WilliamJHague
Follow the Foreign Office on twitter @foreignoffice
Follow the Foreign Office on facebook and Google+
Published 25 January 2014