UK condemns ongoing repression in Iran
Foreign Office Minister Alistair Burt calls on the Iranian authorities to release immediately all those detained yesterday and in the past two years for simply exercising what should be legitimate freedoms.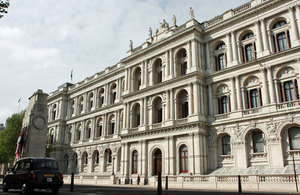 Minister for the Middle East and North Africa, Alistair Burt said:
"Yesterday, large gatherings of Iranians marked the second anniversary of the disputed 2009 elections with silent and peaceful protest, and were again met with repression by the Iranian authorities. There are deeply worrying, credible reports of arrests and violence against protesters. I am struck by the courage of those ordinary Iranians who continue to stand firm against attempts to beat them into silence, exemplified by journalists such as Hoda Saber, whose death yesterday following a hunger strike in prison shocked Iran. As the Foreign Secretary said yesterday, the Iranian regime's feigned support for those demanding their rights elsewhere in the region is belied by its brutal crackdown on freedoms at home.
"I call on the Iranian authorities to release immediately all those detained yesterday and in the past two years for simply exercising what should be legitimate freedoms. I also call on the Iranian authorities to conduct an urgent and transparent investigation into the deaths of Hoda Saber and human rights activist Haleh Sahabi."
Published 13 June 2011