UK condemns killing of protestors in Yemen
Condemning the violence in Sana'a on 18 September, Foreign Secretary William Hague has called on all sides to disengage forces immediately and avoid escalation.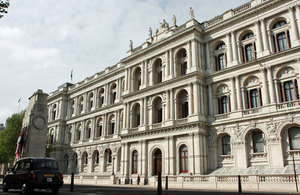 Speaking today he said:
"The UK condemns the killing and wounding of large numbers of protestors in Sana'a on 18 September. The responsibility for preserving law and order, respecting the right to peaceful protest and ensuring early justice for the victims of yesterday's attacks rests with the Government of Yemen. We call on it to take early and credible steps to fulfil these responsibilities.
The UK calls on all sides to disengage forces immediately and avoid escalation. We strongly support continuing negotiations for a peaceful settlement to the crisis. It is vital that all sides show the necessary determination to bring these negotiations to a rapid, successful conclusion."
Published 19 September 2011