UK condemns Hamas mortar attacks and assaults on peaceful protestors
Minister for the Middle East Alistair Burt has spoken following the recent actions by Hamas.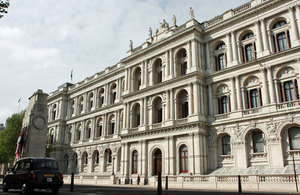 "I condemn the barrage of mortars on southern Israel from Gaza in recent days. The indiscriminate targeting of Israeli citizens, as they celebrated the Jewish festival of Purim, is unacceptable. The firing of over 50 mortars in the space of a few hours, as well as a Grad rocket on Ashkelon that caused injury and damage, signals a further, worrying escalation in the situation at a time when international efforts are focused on getting Israel and the Palestinians back to the negotiating table. Hamas must halt these strikes immediately, and rein in other militant factions in Gaza.
"These attacks come against the backdrop of last week's footage of Hamas security forces assaulting students and other peaceful demonstrators in Gaza. Over the weekend Hamas also targeted local and foreign media organisations. The people of Gaza, like the people across the region, have an absolute right to freedom of expression and peaceful assembly. Hamas should not think that while the attention of the world is elsewhere we will turn a blind eye to their actions."
Published 21 March 2011