UK committed to working with Afghan government and civil society to improve the rights of women
Minister Alistair Burt welcomed women from Afghanistan and representatives from leading UK charities to the Foreign Office on Monday 28 November to discuss women's rights in Afghanistan and the forthcoming international conference in Bonn.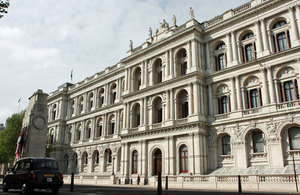 The Home Office Minister and International Champion for the elimination of violence against women, Lynne Featherstone, also attended the meeting which included representatives from Gender Action for Peace and Security, Action Aid, Amnesty International UK, CARE International UK, Oxfam GB and Women for Women International. They highlighted key issues for women in Afghanistan, including the participation of Afghan women at the Bonn Conference.
Mr Burt emphasised the UK's commitment to working closely with the Afghan government, civil society organisations, and international partners to improve the role and status of women in Afghanistan so that they can participate as fully as possible in a future, peaceful Afghan state. Mr Burt reiterated the UK's position that any political process should be inclusive and address the concerns of all Afghan citizens, including women.
The UK's work on women's issues in Afghanistan includes specific activities to reduce the impact of conflict on women and girls and promote their inclusion in conflict resolution, as well as wider work to support Afghan women's empowerment in areas such as education, economic opportunities and participation in public life.
Commenting after the meeting, Mr Burt said:
"Women have an important role to play in the development of a stable and prosperous Afghanistan. While women continue to face enormous challenges in their daily lives, I am encouraged by signs of progress and welcome their involvement, alongside wider civil society, at the Bonn Conference. The UK Government is working to support the empowerment of women in Afghanistan and will continue to do so after our combat troops leave at the end of 2014."
The International Conference on Afghanistan in Bonn on 5 December is a timely opportunity for the international community to voice its long term commitment to Afghanistan. Ahead of the conference, there will be a Civil Society Forum on 2-3 December in Bonn, at which Lynne Featherstone will represent the UK.
Published 30 November 2011