"UK commitment to Latin America stronger than ever"
Foreign Office Minister Jeremy Browne has reaffirmed the UK's commitment to its relationship with Latin America, as he opened the Canning House Annual Fundraising Dinner.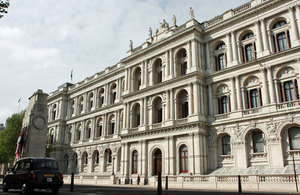 Speaking to over one hundred senior business leaders, Members of Parliament and Latin American Ambassadors, the Minister praised the progress that has been made in strengthening diplomatic ties and developing lasting business connections:
"Nearly a year ago the Foreign Secretary gave the Canning Lecture. He made it clear how important the UK's relationship with Latin America is and pledged to forge deeper, enduring ties with the region.
"We have been working hard to deliver this commitment, which is stronger than ever. We are increasing our diplomatic presence across the region. There has been a step-change in ministerial visits to the region. We have received several Latin American ministers here in London.
"Now we are going to reinforce this engagement in areas where we all share strong interests, including: green growth, science and education. I look forward to seeing this develop over the coming year and to welcome Latin American leaders here for the London Olympics."
As part of the UK Government's commitment to Latin America, a new Embassy will be opened in El Salvador, as well as a new Consulate-General in Recife, Brazil, supported by a range of FCO and UKTI staff.
This is in addition to a renewed high level Ministerial commitment. By the anniversary of the Foreign Secretary's speech, there will have been 29 ministerial visits to Latin America, including two business delegations led by the Deputy Prime Minister, Nick Clegg. This compares with nine the previous year.
So far this year, UK exports to Brazil and Mexico have increased by 15% and 13% respectively, and co-operation agreements have been signed on culture, education and energy. The UK Government is determined to keep up this momentum and make sure that relationships develop further.
This ongoing commitment will be complemented by a renewed effort to showcase opportunities for UK business in the region and highlight success stories. Where barriers to trade exist, Governments will work together to break them down and enable companies to capitalise on the prospects presented to them.
The London 2012 Olympics will also enable the UK to show what it has to offer the world, across all sectors. Latin American leaders will be invited to see where the UK most excels and to share best practice with leading business figures.
Published 23 September 2011