World news story
UK-China ties reach new heights at UK-China High Level People to People Dialogue
UK-China collaboration has reached new heights, with a wave of new agreements at the 2014 UK-China High Level People to People Dialogue.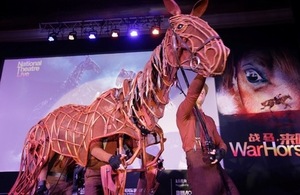 Agreements include new film co-production treaty, training for young leaders, deepened education collaboration and theatre partnership that will bring Chinese-language version of War Horse to China
See Annex for details of all signings and agreements
Secretary of State for Health, Jeremy Hunt MP and Chinese Vice Premier, Liu Yandong co-chaired the Dialogue at Diaoyutai State Guest House in Beijing. The themes for this year's dialogue were education, health, culture, media, science, youth and sport.
The High Level People to People Dialogue is a key pillar in the UK-China relationship: it provides a forum to celebrate ties between the two peoples, and a platform from which to drive greater co-operation and ambition. The UK is one of the first three countries to have a People to People Dialogue with China, signifying the value and importance of the core people aspects of the UK-China relationship.
Headline announcements at today's Dialogue include the signing of the new UK-China Film Co-Production Treaty, that will provide Sino-British productions with greater access to the UK and China film markets, reaching vast and new audiences in our two nations; a framework agreement for strengthening UK-China collaboration in education over the next three years; an agreement between the All-China Youth Federation and the Great Britain China Centre on training for young leaders and the building of a new alumni network; and a partnership between the National Theatre of Great Britain and the National Theatre of China which will see a Chinese language production of War Horse on the Chinese stage in autumn 2015.
Secretary of State for Health, Jeremy Hunt MP said:
The UK-China High Level People to People Dialogue is about core collaborations between our two nations, the kind of partnerships and programmes which make a real difference to people in the UK and China.

From education to the arts, from science to sport, the UK and China are natural partners. By providing the best opportunities for our people to come together and share ideas and expertise, we can, and we will, prosper together.

We discussed many areas of collaboration as well as areas where we can learn from each other's experience. For example, I explained how the UK's commitment to freedom of expression, culture of openness – including of freedom of the media - and willingness to take on ideas from outside our borders has enabled us to become a world leader in the arts, culture and creative industries.
Sir Martin Davidson, Chief Executive of the British Council said:
The UK-China High Level People to People Dialogue gives our two nations the chance to meet our shared interests and ambitions by creating a world of new opportunities for exchange and partnerships between people in our two countries. It is all about building trust and that means how well we in the UK understand China, as well as how well we are understood here.
In addition to Jeremy Hunt MP, Minister of State for Universities and Science, David Willetts MP and Minister for Culture, Communications and Creative Industries, Ed Vaizey MP, represented the UK at the Dialogue.
Details of the agreements and announcements made at the UK China High Level People to People Dialogue (PDF, 570KB, 6 pages)
Published 23 April 2014