UK & China - Partners for Growth
Trade and Investment Minister Lord Green's opinion editorial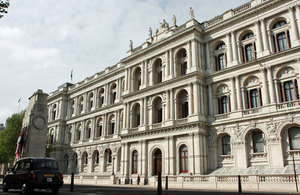 Trade and Investment Minister Lord Green
I am delighted to be here in China, the UK's 'Partner for Growth', so early in my time as Minister of State for Trade and Investment.
It was an honour to be asked by the Prime Minister, David Cameron, to take on this crucial yet challenging role.
The UK needs to grow its economy, and trade performance is undoubtedly at the heart of that. That is why our Government published a White Paper last month pushing for growth through trade and investment.
China, as a strong and emerging market, featured heavily in this White Paper. It has seen spectacular unbroken growth over the last thirty years and is a market that is very important to the UK's economic development. It is our key partner for growth.
Our Prime Minister could not have been clearer about the role China has to play in our future trade and investment.
Not only did he visit Beijing last November, where it was agreed that the UK and China would aim for $100 billion annual trade by 2015, but our Deputy Prime Minister Nick Clegg hosted Vice Premier Li Keqiang in January.
This is engagement from the highest level down, and we intend to continue with more visits to China in the months and years to come. As we do so, we will want to focus not just on the traditional markets of the east but the centre and the west as well.
As many people know, I have been fortunate enough to live and work in China as part of my past role for HSBC, a role that I held for 28 years. This has given me the opportunity to see first-hand the wealth of business developments that are taking place across the country, and the impressive range of skills that exist in every sector.
Inland China is becoming increasingly important commercially, and whilst I am here I am visiting the Two Rivers New Zone in Chongqing, part of the Western Development Strategy. We see big opportunities here to work together. It is a core part of China's low-carbon agenda, which we also have a strong interest in, and which we have already seen significant collaboration. Only last year Fudan University in Shanghai joined with a number of UK universities to work on solutions to climate change.
We want to get British businesses involved in China's large regional projects, and I am particularly keen to see small and medium enterprises (SMEs) doing this. China's economic development depends on that as much as our own.
SMEs are the bedrock of a successful economy and we know that exporting can make them stronger and more innovative. They are often the companies with the most inventive new ideas and the biggest potential for growth.
While I am here in China, I want to showcase what we in the UK have to offer you. I want to demonstrate the UK's technical competence and its business excellence in areas from education to security, IT to engineering.
You put priority on financial services, advanced engineering and new energy, and we do as well. In fact we have real expertise in these areas - expertise that we can share.
As a country, the UK is a great place for business. We are the most open economy in Europe, and the World Bank ranked us first in Europe for ease of doing business. Crucially, we are also the gateway to the 27 European Member States and can provide Chinese companies with valuable contacts.
The UK Government has made clear its intention to support business. We are reducing the main rate of corporation tax from 28 to 24 per cent and are tackling excessive regulation.
Ours is a country that welcomes investment and the benefits it can bring, not only nationally but to regional communities as well. The more areas opened to foreign investment, the bigger impact that investment can have on the wider economy. This message ties in with China's twelfth Five Year Plan.
As I have said, this is about being partners for growth and while I am supporting the UK in China I also want to support China in the UK.
We would welcome more Chinese investment in the UK, including in infrastructure investment and from Sovereign Wealth Funds. Your companies already contribute greatly to our economy, with firms such as ChangAn Automotive, Fosun Pharma, NewSummit Biopharma, Xiangxue Pharmaceutical Company, Yuchai Engineering Machinery Company and Zhuzhou CSR Times Electric establishing links over the last year.
These offer so much more than the sum of their parts. Of course they are good for the companies involved, but they also offer employment to people in the UK and help to develop different industries throughout the country. This sharing of expertise can have wide ranging benefits.
As I continue with my visit to China and see for myself how new industries are developing and new regions are emerging I hope to be able to share a message of unity: that the UK and China can support one another in their economic development. This is the crucial point that I want to make with politicians and business people alike.
Search the news archive
Published 21 March 2011