World news story
UK Celebrates 45th Anniversary of Full Diplomatic Relations with China
On 13 March 2017, the British Embassy in Beijing celebrates the 45th Anniversary of Ambassadorial relations between the UK and the People's Republic of China.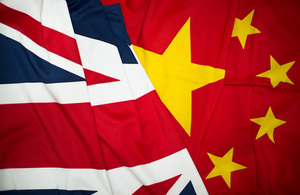 The UK was the first major Western country to recognise the PRC in 1950. In 1972, China and the UK agreed to establish full diplomatic ties with the exchange of Ambassadors, signalling their commitment to a strong and constructive bilateral relationship.
Over the past 45 years, the UK-China relationship has grown from strength to strength. The deep and broad links between the two countries range from trade and investment to education and the arts, science and innovation, sports and tourism.
In that time the UK has become one of the most open economies in the world and now receives more Chinese investment than any other major European country. UK exports to China grew 63% from 2010 to 2015 and London has become a leading hub of Chinese financial activity at the heart of RMB internationalisation. The UK also established the first Renminbi sovereign bond outside China and is home to the second largest RMB clearing centre after Hong Kong.
The number of Chinese visitors to Britain has more than doubled over the past five years. There are now around 150,000 Chinese students in the UK. More British people are visiting China, and more British schoolchildren studying Mandarin than ever before.
President Xi Jinping's successful State Visit to the UK in 2015 established a Global Partnership, signalling the commitment of both countries to strengthen cooperation on the international stage – on foreign policy, security and a wide range of global challenges.
In his video message to mark the anniversary, Foreign Secretary Boris Johnson reflected on the achievements of the past 45 years, and looked forward to a further strengthening of bilateral ties.
Celebrating the anniversary, Dame Barbara Woodward, British Ambassador to China said:
This year's anniversary is a milestone on a road which stretches back through history for hundreds of years and which, I am confident, will stretch forward too.

There is much more the UK and China can do together as we continue to build a partnership that benefits both our countries and the global community.
The Chinese Ambassador to the UK, Liu Xiaoming said:
It is time to carry forward the cause pioneered by the generations before us and embrace a more promising future in the spirit of equality, mutual respect, inclusiveness and win-win cooperation. China and the UK should continue to expand our cooperation across the board and deliver more 'golden fruits' in this Golden Era.
Published 13 March 2017