Press release
UK CAP allocations represent fairest deal for Welsh farmers
£20billion CAP budget to be shared fairly between the four UK administrations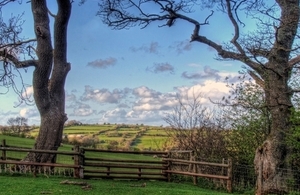 Retaining current regional shares of the UK direct payments allocation of the Common Agricultural Policy budget represents the fairest deal for Welsh farmers, Wales Office Ministers said today (8 November).
The UK government has announced that farmers in England, Northern Ireland, Wales and Scotland will receive the same proportion of the £20 billion Common Agricultural Policy (CAP) budget over the next seven years as they currently receive.
Following extensive consultation with the devolved administrations, the government has concluded that the change in CAP funding on the current seven year period will be shared fairly between the four UK administrations.
Secretary of State for Wales, David Jones and Wales Office Minister with portfolio responsibility for rural affairs, Baroness Jenny Randerson have regularly met with Welsh farming organisations to ensure that the Welsh perspective was understood and reflected.
David Jones said:
This agreement announced today shows that this Government is listening, and has ultimately acted in the best interests of all UK farmers.

The Wales Office and DEFRA Ministerial teams have worked closely with Welsh Government officials, and with farming organisations such as NFU Cymru and the Farmer's Union of Wales as we worked towards reaching this important agreement.

In doing so, we have secured outcomes that have successfully addressed their key concerns, and achieved the fairest possible deal for Welsh farmers. This is a clear demonstration of the outcomes that can be achieved when the two Governments in Westminster and Cardiff Bay work closely together for the good of the Welsh and wider UK economies.
Baroness Jenny Randerson said:
By working closely with the Welsh Government, we ensured we spoke with one voice which was essential.

It was critical that we sought their views on the allocation options that were jointly developed in our aim to secure a fair agreement for Welsh farmers.

Today's announcement means that the Welsh Government will now be able to decide how to take forward the implementation of the CAP regulations in a way which best suits Welsh farmers with the money available to them.
As part of the agreement, the Government has been able to secure a smoother transition away from historical payments to area based direct payments. They will also benefit from other flexibilities secured, such as the changes to greening thresholds to limit the impact on farmers whose land is mainly permanent grassland.
Notes to Editors
Today the government has announced that over 2014-2020:
Northern Ireland will receive a pillar 1 (direct payment) allocation of around €2,299 million, and a pillar 2 allocation around of €227 million.

Scotland will receive a pillar 1 (direct payment) allocation of around €4,096 million, and a pillar 2 allocation of around €478 million.

Wales will receive a pillar 1 (direct payment) allocation of around €2,245 million, and pillar 2 allocation of around €355 million; and

England will receive a pillar 1 (direct payment) allocation of around €16,421 million, and a pillar 2 allocation of around €1,520 million.
This will mean that each Administration is only subject to an equal percentage cut on pillar 1. The Government, having taken account of the views of the Devolved Administrations believes that this is the most appropriate settlement for England, Northern Ireland, Scotland and Wales.
The Wales Office's Rural Economy Taskforce, which explored major issues affecting the rural economy in Wales referred to the collaborative work with DEFRA and the Welsh Government on the CAP reforms in its report. This can be seen here
Figures given above are in nominal terms (not adjusted for inflation)

Over 2014-2020 the UK will receive €25.1 billion in direct payments. Over the same period the UK will receive €2.6 billion in pillar 2 funds.

Between 2013/14 and 2019/20 the UK's direct payments (pillar 1) will decline by 1.6 percent. In inflation adjusted terms (2011 prices) this is a 12.6 percent reduction.

On pillar 2, between 2007-2013 and 2014-2020 the UK's allocation will increase by 7.8 percent. In inflation adjusted terms (2011 prices) this is a reduction of 5.5 percent.

Today's announcement relates to the government's decision to allocate the UK's budget for direct payments over the 2014-2019 direct payment scheme years. This decision does not affect the existing regional allocation of direct payments between England, Wales, Northern Ireland and Scotland for the 2013 scheme year, which for budgetary purposes falls in the 2014 EU financial year.

Final allocations will be subject to agreement with the European Parliament over the 2014-2020 EU Budget.

Image courtesy of neilalderney123 on Flickr
Published 8 November 2013