News story
UK - Cameroon Joint Commission to Hold in London
First ever Joint Commission between Cameroon and the UK to hold on 2 September 2013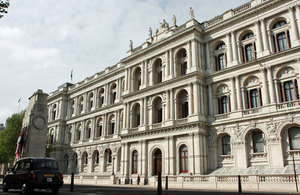 The British High Commissioner to Cameroon, H.E Bharat Joshi announces the holding of the first ever United Kingdom-Cameroon Joint Commission on 2 September 2013 in London.
The Joint Commission will provide a platform to discuss bilateral political, economic and consular relations at Ministerial level, strengthening relationships between the UK and Cameroon. The Joint Commission will be followed by a Trade Forum on 3 September which will advertise the potential of Cameroon to British Businesses and demonstrate the success that British Business in Cameroon has had to date.
The Cameroonian delegation, led by the Cameroon Minister of External Relations, H.E Pierre Moukoko Mbonjo, will also meet with UK's Minister for Africa, Mark Simmonds, and British Companies during their visit to the UK.
More on Gov.UK
Published 30 August 2013