UK calls for UN action on Libya
Foreign Secretary says UK gravely concerned about the situation in Libya.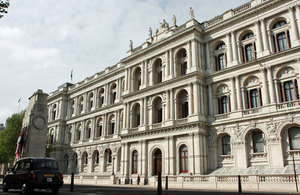 The Foreign Secretary William Hague said:
"The UK is gravely concerned about the situation in Libya, which is a danger to the people of Libya and could have serious implications for the wider region.
The UK therefore believes that the UN Security Council must bring its influence to bear. At the urging of Britain and other countries the UN Security Council will meet later today.
At the Security Council, the UK will condemn the violence and call on all parties to respect human rights and act with restraint and in accordance with international law. We will raise the Libyan Government's responsibility to offer full protection to foreign nationals in Libya.
The UK supports the UN High Commissioner for Human Rights in calling for a full and transparent investigation into reports of attacks on Libyan citizens and we will continue to press for access for human rights monitors.
We will also raise Libya in the UN Human Rights Council in Geneva. The Libyan Government is trying to stop the world seeing what is happening. But they should be held accountable by the international community and by Libyans themselves.
The UK will continue to be active on every diplomatic front to address the deepening crisis in Libya, in close coordination with the US, EU and countries of the region."
Published 22 February 2011