UK calls for immediate end to violence in Yemen by all sides
Foreign Office Minister Alastair Burt met with Yemeni Foreign Minister Dr al-Qirbi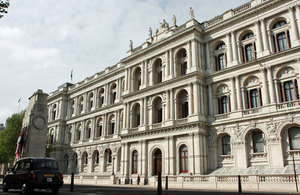 Following the meeting, the Minister for the Middle East said:
"I made clear the need for an immediate end to violence by all sides. The Foreign Minister reported on the President's return to Sana'a. I urged that President Saleh should use this to deliver on his previous commitment to sign and implement the GCC initiative in order to facilitate a peaceful transition of power.
It is clear that the economic, humanitarian and security situation in Yemen will continue to deteriorate until there is a determined drive to reach political transition. Dr al-Qirbi underlined that dialogue between the government and opposition is continuing. The managed transfer of power needs to commence now as further delay will inevitably increase the potential for violence.
The UK stands ready to work with the Government of Yemen and with international partners to support the transition process."
Published 29 September 2011