Press release
UK businesses report boost in innovation
More UK businesses than ever before are coming up with new ideas and products, according to official statistics.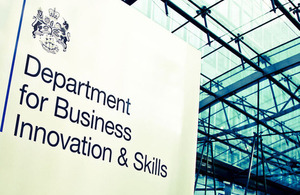 the UK has seen its biggest boost in business-led innovation since 2010
Yorkshire and Humber has the most innovative businesses in the UK
the government commits the UK to go further and become best place in Europe to innovate
More UK businesses than ever before are coming up with new ideas and products, according to official statistics released today (11 March 2016).
The statistics, based on a survey of almost 30,000 employers between 2012 to 2014, show over half (53%) of UK businesses are actively engaging in developing and introducing new products and ways of making them, as well as new services and ways of doing business. Up 8% in 2 years alone.
The positive figures come after Business Secretary Sajid Javid set out his goal to make the UK a world leader in new ideas and innovation – helping to drive up competition, creating jobs and providing new and improved products and services – with a new national innovation plan.
Business Secretary Sajid Javid said:
From new disruptive business models to driverless cars, innovation can not only revolutionise the way we live our lives, it can bring real opportunities for businesses to tap into and grow. That is why we are determined to make the UK the best place in Europe to innovate and start a company.

And these figures show that businesses throughout the UK are already leading the way, delivering exciting opportunities across the nation. The number of companies innovating and coming up with new, dynamic ideas is on the rise – up 8 percentage points between 2012 and 2014, with over half of businesses now developing new products and services, some with the potential to revolutionise their industries.
Yorkshire and the Humber leads the UK for innovative businesses, with almost two-thirds of businesses engaged in innovation in the region. The East Midlands is also well above the UK average at 57%, and the West Midlands has seen one of the largest increases in business led innovation, up 12 percentage points over 2 years.
The figures also show how important innovation is to global business success. 28% of innovative businesses were exporting abroad; bringing new British products like advanced medical scanners chargers to an international market. That compares to only 10% of non-innovating businesses.
More information and a breakdown of statistics is available at UK innovation survey 2015: headline findings
Published 11 March 2016