UK Biosecurity and innovation boosted with new funding award
Defra and UK Research & Innovation open new fund to improve UK Biosecurity and tackle the threat of regulated plant pests and diseases.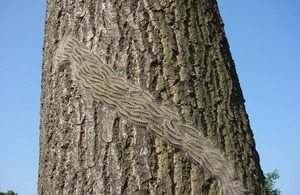 UK technical capability to protect plant health and biosecurity in the UK is set to be boosted from today (6 November) with new research grant funding available for businesses working in technological innovation and the UK horticultural, forestry, agricultural growers, importers and plants and plant products export sectors.
From today, businesses can apply for a share of a new funding pot of up to £800,000 launched by Defra and UK Research and Innovation (UKRI) to devise new solutions and technologies to increase UK biosecurity and protect it from regulated plant diseases and pests.
The fund will develop innovations to enhance plant health inspections, both at the border and in-land, pest and disease surveillance and management of infected commodities – helping safeguard food security and mitigate the effects of climate change.
The move is a key part of our Plant Biosecurity Strategy.
Lord Benyon, Defra Minister for Biosecurity, said:
Plants and trees provide £15.7bn to society annually in the UK and it is imperative that they are protected and the UK remains at the forefront of emerging technologies to do this.

The UK is proud to be a global leader in plant biosecurity, and this new investment is part of the Government's commitment to invest in new technologies, enhance biosecurity and boost the economy which will ensure protection for our plants and trees.
Types of activities eligible for the grant include:
Developing innovative technologies and practices to enhance border inspections of traded plants for planting and plant commodities, including wood and wood products, improving sampling accuracy, detection rates of regulated pests, time and resource efficiency of inspectors.
Enhancing in-land inspections of plants in nurseries, recently planted sites or the wider environment, through the application of innovative technologies and practices to enable pest and pathogen detection in the field, reducing the risk of outbreaks.
Utilising passive and scanning surveillance approaches to provide timely and cost-effective methods for detecting pests and diseases in different landscape settings.
Managing the supply of potentially infected or infested plants and plant commodities pre and post border by presenting alternative treatments to destruction of the plants following detection of a quarantine organism, reducing financial losses whilst maintaining biosecurity.
Professor Guy Poppy, interim Executive Chair of the Biotechnology and Biological Sciences Research Council (BBSRC), said:
Healthy, robust, resilient plants are paramount to the health of our environment, food supply, economy and society. It is therefore mission critical that the UK invests the resource required to effectively predict, prevent, detect and manage threats to plant health. This exciting collaboration convenes key UK partners to help safeguard plants by tackling existing and emerging infections – key strategic ambitions for Defra and UK Research and Innovation (UKRI).

As the UK's major public funder of plant science research, BBSRC's investments in a portfolio of fundamental and translational research ensure we maintain a dynamic and productive national capability in plant health and biosecurity. Coupled with the world-leading expertise of Innovate UK in supporting businesses to maximise the full potential of their ideas and drive economic progress, this new initiative will bring together the best in academia and business to deliver innovative, sustainable, long-term solutions for UK plant health.
Professor Nicola Spence, Defra Chief Plant Health Officer, said:
Maintaining strong national biosecurity is hugely important, and today's announcement will help tackle the threat of plant pests and diseases by innovating border and in-land plant health inspections, pest and disease surveillance and infection control.

I encourage as many organisations as possible to apply over the next six weeks to play their part in protecting the UK's plants and trees from pests and diseases.
This announcement follows the launch of the Plant Biosecurity Strategy for Great Britain earlier this year which set out a five-year vision for plant health, consisting of an action plan to secure national biosecurity, protect native species and drive economic growth. Today's announcement represents our ongoing commitment to public funding of plant health research and development which will ensure our plant health regime incorporates and recognises the latest technical capabilities.
For more information on the fund and to apply visit UKRI Funding Finder: Opportunities – UKRI.
ENDS
Notes to editors:
This SBRI was co-designed following consultation feedback received during the development of the Plant Biosecurity Strategy for Great Britain, to help make plant health research funding accessible and attractive to as diverse community of innovators and end users as possible, in particular Outcome 4 for an enhanced technical capability. Its delivery is also consistent with the objectives and approaches of the Plant Health R&D Plan.

Individual projects will have total costs between £20,000 and £150,000, inclusive of VAT.

Further competition details are available via the UKRI Funding Finder: Opportunities – UKRI. Applications must be received by 20 December 2023, with contracts awarded for successful proposals from 1 April 2024 for up to 12 months.

To lead a project, you can be an organisation of any size and we strongly encourage collaboration and co-design between solution developers and real-world solution users, to ensure a clear route to use in an operational environment. Projects can include prototyping, demonstrating, piloting, testing and validation of new or improved products, processes or services.
Published 6 November 2023