Press release
UK-Bahrain sign landmark defence agreement
New arrangement will strengthen and expand existing UK MOD facilities in Bahrain.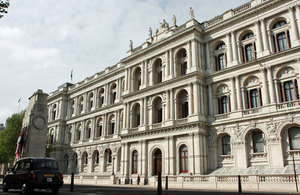 In the margins of the 10th IISS Manama Dialogue, Foreign Secretary Philip Hammond signed a new defence arrangement with His Excellency Sheikh Khalid bin Ahmed bin Mohammed Al-Khalifa, Bahrain's Foreign Minister and in the presence of HRH Prince Salman Bin Hamad Al-Khalifa, Crown Prince, Deputy Supreme Commander and first Deputy Prime Minister and UK Defence Secretary Michael Fallon.
The arrangement will improve onshore facilities at the Bahrain Defence Force (BDF) Mina Salman Port in Bahrain, where the UK has four mine-hunter warships permanently based and from where British Destroyers and Frigates in the Gulf are supported. Under the arrangement, the UK is planning to bolster the existing facilities at the Port, providing the Royal Navy with a forward operating base and a place to plan, store equipment for naval operations and accomodate Royal Navy personnel.
Commenting today, Philip Hammond said:
I'm delighted to have signed this arrangement with HE Khalid bin Ahmed Al Khalifa, Bahrain's Foreign Minister, in the presence of HRH the Crown Prince. This will guarantee the presence of the Royal Navy in Bahrain well into the future. The expansion of Britain's footprint builds upon our 30year track record of Gulf patrols and is just one example of our growing partnership with Gulf partners to tackle shared strategic and regional threats.
Defence Secretary Michael Fallon added:
This new base is a permanent expansion of the Royal Navy's footprint and will enable Britain to send more and larger ships to reinforce stability in the Gulf. We will now be based again in the Gulf for the long term.
HE Sheikh Khalid said:
I am very pleased to sign this arrangement with the Foreign Secretary, marking a further step in the long cooperation between Bahrain and the United Kingdom. It reaffirms our joint determination to maintain regional security and stability in the face of challenging circumstances, and gives further strength to our multifaceted partnership. Bahrain looks forward to the early implementation of today's arrangement, and to continuing to work with the UK and other partners to address threats to regional security.
Further information
Follow the Foreign Secretary on Twitter: @PHammondMP.
Follow the Foreign Office on Twitter.
Follow the Foreign Office on Facebook & Google+.
Published 5 December 2014