UK at forefront of international effort to push for human rights in Belarus
Minister for Europe David Lidington met members of Index on Censorship to discuss the human rights situation in Belarus on 30 June.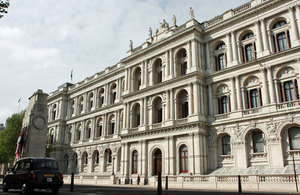 Speaking after the meeting the Minister for Europe said:
I met members of Index on Censorship, including Dr Irina Bogdanova, sister of former Presidential candidate Andrei Sannikov, and Elena Edwards, the sister in law of ex-Presidential candidate Aliaksei Mikhalevich. We discussed the deteriorating human rights situation in the country, including the disproportionate response by the authorities towards Belarusian citizens seeking to make public their concerns about the situation in their country on Wednesday evening.
"I told them that the UK would continue to be at the forefront of international efforts to push for human rights and democracy in Belarus. Already we have worked successfully with EU partners to adopt tough sanctions towards the regime, and to get the United Nations Human Rights Council to commit to a renewed focus on Belarus. The international community must help Belarusians to protect their right to express themselves freely without fear of repression."
He added:
"I am deeply concerned about the lack of appropriate medical treatment for several political prisoners including Dimitry Bondarenko, Dimitry Bulanov and Andrey Sannikov. The United Kingdom calls on Belarus to meet its obligations under ICCPR and the Body of Principles for the Protection of All Persons under Any Form of Detention or Imprisonment, adopted by the UN General Assembly in 1988.
"A further concern is the use of 'isolation' cells as punishment for political prisoners. Dmitry Dashkevich, President of the 'Young Front', claims he is in isolation for insisting on his right to use Belarusian, one of the official languages of the Republic of Belarus. Mikhail Likhavid's case is particularly egregious. Since his sentencing for 'the organisation of mass riots' in a politically-motivated trial last February, he has spent almost the whole of his time in an isolation cell. We believe that he is being punished for continuing to voice his innocence."
Published 1 July 2011