World news story
UK Army Reserve soldiers exercising in Croatia for the third year
UK Army Reserve 4th Battalion the Mercian Regiment took part in Exercise Sava Star in Slunj, Croatia.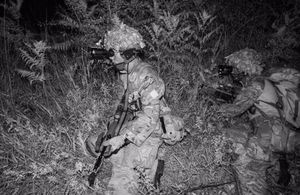 UK Army Reserve soldiers were in Croatia for the third year: 4th Battalion the Mercian Regiment was taking part in Exercise Sava Star in Slunj from 22 August until 6 September.
This year's exercise is the continuation of the two previous successful ones conducted on Eugen Kvaternik training area: conducted by the 3rd Battalion The Royal Anglian Regiment and the 5th Battalion Royal Regiment of Fusiliers. Regular non-commissioned officers and soldiers from the Battalion's twinned regular unit have also joined the exercise to train alongside Croatian Armed Forces.
Sergeant Tim Robinson, a Reserve soldier with 4 Mercian from Derby, who was visiting Croatia for the first time said:
The Croatian Armed Forces seem very similar to UK Forces in discipline, training and robustness. I trust them immensely and enjoy working alongside another professional army. It was interesting to see their rugged equipment too, perfect for the terrain here. It's been an amazing experience, I hope we can do more training together in the future.
About 100 Army Reserves spent two weeks at the Combat training centre, which gave them the chance to develop their basic infantry skills, including patrolling, section attacks and navigation. A platoon of Croatian soldiers "Paukovi" joined them for the integrated training and Croatian officers were studying military decision making processes alongside the British officers.
Published 7 September 2015