World news story
UK and Uzbekistan: cooperation to tackle climate change.
British Ambassador received an expert from the Centre for Hydrometeorological Service who recently returned from job shadowing at DECC, UK.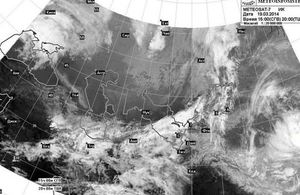 Her Majesty's Ambassador Mr George Edgar received Ms Olga Belorussova, the Head of Soil Pollution Monitoring Laboratories at Centre for Hydro meteorological Service at Cabinet of Ministers of the Republic of Uzbekistan (Uzhydromet) who has recently returned from job shadowing in London where she joined experts of the Department for Energy and Climate Change (DECC), UK. This trip was sponsored by the British Embassy in Tashkent in the framework of cooperation of the Embassy and Uzhydromet to tackle climate change.
Mr Belorussova communicated the results of her job shadowing which took place from 24 to 28 February 2014 at DECC where she learnt about the objectives of the Department, tendencies in renewable energy development (wind, solar and biomass) in UK and also practised using "2050 pathways model" designed for calculation of the CO2 emissions into atmosphere.
"Apart from other useful lessons learnt, this job shadowing at DECC enabled me to understand how to use new, up-to-date software which makes calculations of green house gas emissions. This knowledge will, hopefully, help me to calculate more effectively CO2 emissions in Uzbekistan which is reflected as one of the objectives by Uzhydromet in the Third National Communication, United Nations Framework Convention on Climate Change" said Ms Olga Belorussova.
Ms Belorussova's visit is a continuation of the ongoing dialogue between British and Uzbek climate change experts. Earlier in 2013 Mr Ian Trim, Climate Security Advisor based in the British Embassy Moscow paid a visit to Tashkent and discussed climate change and shared British expertise in this area with his Uzbek partners.
Published 19 March 2014
Last updated 19 March 2014
+ show all updates
Added translation
Added translation