News story
UK and US join forces to support girls' education in poor countries
New five year education programme in the Democratic Republic of Congo will help girls and boys get the skills they need to succeed.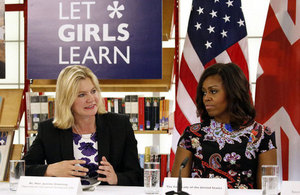 International Development Secretary Justine Greening and First Lady Michelle Obama came together in London today to launch a global push to make sure girls in poor countries get the education they deserve.
They addressed an audience at Mulberry School for Girls in East London where they unveiled a new 5 year programme in the Democratic Republic of Congo that will give 450,000 children the chance to get a primary school education and help almost 1.4 million girls and boys learn to read.
The programme will focus on helping girls who are out of school in conflict affected areas, such as North and South Kivu and Katanga, to get back into learning programmes. This will give them the skills they need to get a job and reintegrate back into society having faced significant upheaval.
It will also include work to tackle sexual and physical violence and intimidation in the classroom.
Addressing an audience of schoolgirls at the Mulberry School for Girls Justine Greening said:
There are millions of children around the world who will never spend a day in school. Many millions more will make it to primary school but not to a secondary school - they'll never learn to read and write.

But we all need to play a part if we want to change that - Britain, the US and you.

In the DRC or Syria so many girls and boys don't have a voice but you do. We need people like you to help build a world where no matter where you are or who you are, you get an education and a chance to live up to your potential.

We can be proud of the fact that the UK is enabling 11 million girls and boys to go to school. We're training teachers, building classrooms and providing the poorest girls and boys with scholarships.
As well as providing new and immediate education opportunities the UK and US are also partnering with researchers from around the world to understand the obstacles that girls face in getting an education.
Over 10 years researchers will follow girls in the world's poorest countries from their first days at school to learn more about the challenges that might prevent them from getting the education they deserve.
Working with researchers from Cambridge University and Georgetown University, the Department for International Development (DFID) and USAID will also collaborate on research to improve the quality of and access to education for girls in conflict areas.
DFID is recognised as a global leader in girls' education. All of DFID's education programmes have a focus on girls and young women and support them through primary and secondary education.
The UK is helping over 10 million children through primary and secondary school and by 2017 DFID's flagship Girls' Education Challenge programme will help one million more of the world's most marginalised girls to benefit from an education.
Published 16 June 2015