Press release
UK and Somalia host international talks on the future of the Somali National Army
The two countries co-hosted a meeting to discuss support to the Ministry of Defence and Somali National Army.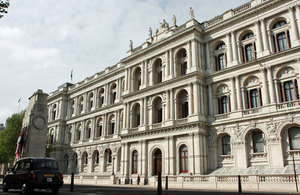 Meeting at Lancaster House, London, the Somali delegation was led by Prime Minister Abdiweli. Prime Minister Abdiweli also held introductory talks with the Minister for Africa, James Duddridge, during his visit to the UK.
The Somali National Army (SNA) has a key role to play in bringing long term peace and security to the country. A wide range of international donors provide support to the SNA and this meeting was called to ensure that support was being effectively coordinated and targeted to address immediate requirements.
During a productive day of discussions, the Federal Government of Somalia outlined its vision for the future development of the SNA. They set out associated plans for issues that will be fundamental to the SNA's success, including the integration of regional militias, arms embargo compliance, fiscal planning and human rights compliance.
Attendees agreed the path for development of the SNA up to 2019 and agreed that current donor support should be focused on the SNA's operational capacity during the current offensive against Al-Shabaab, which is being carried out by the SNA in partnership with the African Union Mission in Somalia.
Following the talks, the attendees agreed a communiqué.
Further information
Follow the Foreign Office on twitter @foreignoffice
Follow the Foreign Office on facebook and Google+
Published 18 September 2014