UK and Saudi Arabia drive forward bilateral trade
Foreign Office Minister Lord Howell meets with Saudi Arabia business delegation led by Saudi Arabia's Minister of Commerce and Industry H.E. Abdullah A. Alireza.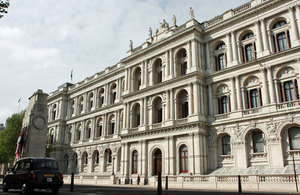 With bilateral trade worth around £6.5 billion last year, Saudi Arabia's Minister of Commerce and Industry H.E. Abdullah A. Alireza is leading a delegation of senior Saudi business leaders to London this week to drive forward bilateral trade and create new partnerships.
Speaking about the visit, Secretary of State for Business, Innovation and Skills Vince Cable said:
"I had a very productive meeting with my counterpart Minister Alireza. Our discussion highlighted the strength of the relationship between our two countries.
Saudi Arabia is the UK's largest trading partner in the Middle East. The relationship between our two Kingdoms is important to both of us and we will work to improve it.
Global recovery depends upon us exporting more, attracting more inward investment, liberalising and opening up markets and creating stable economic conditions. Closer co-operation between nations will help us all achieve our goals."
Today's meeting of the Saudi-British Joint Business Council brings together businesses from both countries to help to create new partnerships and tackle barriers to trade and investment.
Opening today's meeting, Minister of State for the Foreign & Commonwealth Office Lord Howell said:
"The UK stands ready to support Saudi Arabia, the economic powerhouse in the Middle East and one of the UK's closest allies, in its ambitious infrastructure and economic diversification plans.
This Business Council gives us an excellent framework within which we can drive forward our commercial and economic relationship."
The Coalition Government wants to increase its engagement with the Gulf states. UK exports of goods and services to the Gulf are currently worth over £15 billion every year.
UK - Saudi Arabia factfile:
• There are approximately 200 UK/Saudi joint ventures with a total investment estimated at around $US17.5bn.
• The UK is the second largest foreign investor in Saudi Arabia after the US.
• Around 20,000 British citizens live and work in the Kingdom.
• In most years, the UK has been the European country most visited by Saudis - over 100,000 visits per year.
• There are over 14,000 Saudis studying at British universities.
• Saudi Arabia is the largest construction market in the Middle East and one of the fastest growing in the world. Mega project developments alone are worth US$129.7 billion.
• Six new cities are being built, the biggest being the King Abdullah Economic City which will be as big as Hong Kong.
Published 24 June 2010