Press release
UK and Romania Renew Strategic Partnership
UK & Romania to set up dialogue on energy, promote removal of barriers to EU digital single market and cooperation on freedom of movement.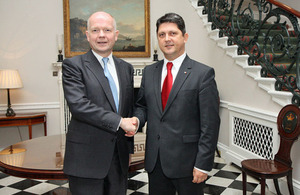 The Foreign Secretary William Hague met Titus Corlăţean, the Romanian Minister of Foreign Affairs, on Thursday 10 October in London.
Mr Hague and Mr Corlăţean said:
Today we have reaffirmed our commitment to the Strategic Partnership between the UK and Romania.

We discussed our mutual foreign policy priorities including Syria, the EU Eastern Partnership, and the Western Balkans. We agreed that our officials will work together to promote the rule of law and fight against corruption in South-East Europe, by co-organising a regional conference on anti-corruption under Romania's chairmanship of the South East Europe Cooperation Process.

We agreed that the UK and Romania should launch a bilateral Energy Dialogue to share best practice in order to promote the development of reliable, competitive and sustainable energy systems which support European growth and competitiveness and to help ensure security of supply through diversification of sources and routes. We further agreed to foster opportunities for UK and Romanian business and to promote an energy secure, low carbon future for the EU.

We discussed the need for a Digital Single Market for Europe, and we pledged to promote the expansion of e-commerce between the UK and Romania, and to work together at the October European Council to support actions to remove barriers to digital commerce across the EU.

In view of the fact that the UK will lift working restrictions on Romanian and Bulgarian nationals on 1 January 2014 in accordance with our legal obligations, we acknowledged the positive contribution that most Romanians in the UK make to the UK economy. We both recognised the principle of free movement in the EU as an important part of the single market, particularly in relation to growth, competitiveness and jobs. We also discussed the importance of working together to prevent potential abuses of the right to free movement of workers by EU and third-country nationals as well as labour exploitation. We agreed that British and Romanian officials will seek to develop formal cooperation on this.

We welcomed the strong consular cooperation that already exists between Romania and the UK, and agreed to explore where we can provide additional support to each other in areas of need. We will continue to work closely to share our experiences with handling death penalty cases in third countries and also to compare best practice with the digitisation of notarial and documentary services.
Further information
Follow the Foreign Secretary on twitter @WilliamJHague
Follow the Foreign Office on twitter @foreignoffice
Follow the Foreign Office on facebook and Google+
Published 10 October 2013