News story
UK and private sector to help the world's poorest women into better jobs
International Development Secretary announces new programme to empower women in business supply chains.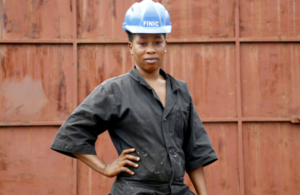 A new partnership between the UK Government and British and international businesses will help 300,000 women in the world's poorest countries into more highly skilled and better paid jobs, the International Development Secretary Priti Patel announced today.
Speaking at the United Nations General Assembly (UNGA) Ms Patel outlined that the new Work and Opportunities for Women (WOW) programme will see the UK working with businesses, including British businesses, which have supply chains in the poorest countries, to tackle important issues like discrimination and violence in the workplace.
The UK is already a global leader on women's economic empowerment and plays a key role as part of the UN Secretary General's High Level Panel (HLP), which aims to help women around the world to get jobs, overcome discriminatory laws and reduce the burden of unpaid domestic work.
The International Development Secretary announced the new WOW programme at an event to launch the first report of the HLP on Women's Economic Empowerment.
Speaking at the UN HLP event Priti Patel said:
Around the world women are held back, hidden away and discriminated against. It's a tragic waste of human potential.

That's why a global Britain is driving real change by working with the private sector to ensure there are better job opportunities and improved working conditions for the world's poorest and most marginalised women.

The UK will also use the UN's High Level Panel report to deliver tangible change for these women.

Giving women the opportunities they deserve will not only help them, it will also support the UK and global businesses. This is central to building a safer, more prosperous world, which is firmly in the UK's national interest.
Over the next five years the new WOW programme will:
Help 300,000 women get more productive jobs and higher incomes, with better working conditions. For example, working with clothing companies to incentivise garment factories to promote women into higher roles with more responsibility.

Improve data on where women work in supply chains and identify barriers, which currently prevent women from being a part of the supply chain. Businesses need these statistics to help women into better jobs with better pay as better data can help track results and progress.
The new UN HLP report on Women's Economic Empowerment calls on the global community to join the Panel in taking action based on the seven drivers of change identified.
The drivers include: changing corporate culture, promoting positive role models and redistributing unpaid work. The report sets out specific actions for governments, international development institutions, businesses, civil society and thought leaders.
Founding member of the UN HLP Minister for Women and Equalities Justine Greening said:
We want every woman to feel they have the opportunities and support they need to get into employment and to reach their full potential.

This is a brilliant project that will see business and government globally, working together to get more women into high earning jobs – this is not only great for women, but good for business and the economy too.

I'm proud to be a founding member of the UN's high-level panel on women and will continue to support this important work both personally and in my role as a UK minister.
Notes to Editors:
The WOW programme announced today is £12.8 million delivered over 5 years.
UN Secretary General's High Level Panel report
Published 22 September 2016