UK and Polish Ministers meet in first ever Defence Diplomacy Quadrilateral
Foreign Secretary William Hague and Defence Secretary Liam Fox are today hosting their Polish counterparts in the first-ever quadrilateral meeting between the two countries on diplomacy and defence issues.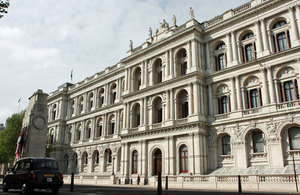 Speaking before the meeting Foreign Secretary William Hague said:
"Liam Fox and I are delighted to host our Polish counter-parts in London today. We will be discussing a range of issues of mutual importance to our two countries, issues on which we work closely together already, and where we believe further UK-Polish cooperation can have a significant positive impact. Poland is a hugely important partner for the UK, and this first-ever quadrilateral meeting on diplomacy and defence represents a real step forward in our bilateral relationship."
Polish Foreign Minister Radoslaw Sikorski and Defence Minister Bogdan Klich are in London to discuss a range of issues with their British hosts, including EU Neighbourhood policy, particularly towards its eastern neighbours; NATO; and EU-NATO cooperation; and other foreign policy issues such as Afghanistan.
Published 21 October 2010