News story
UK and Norway announce new trade dialogue
Joint statement from the UK Minister for Trade Policy and the Norway Minister for Trade and Industry.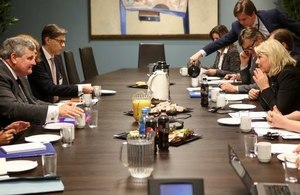 Today (15 November) the UK Minister for Trade Policy at the Department for International Trade, Lord Price, visited Oslo where he met with Monica Mæland, Minister for Trade and Industry.
The ministers held productive discussions on a range of issues including the UK and Norway's bilateral trading relationship.
They reaffirmed their commitment to growing the trading links between the 2 countries and agreed to establish a dialogue to discuss how to progress this.
International Trade Minister, Lord Price, said:
The close trade and investment relationship UK and Norway enjoy will continue to go from strength to strength as the UK looks to forge a new path in the world.

Following constructive talks with my Norwegian counterparts we have established a dialogue which will provide a forum for us to discuss the future of our trading relationship and how we can boost our already strong trade ties.
Minister for Trade and Industry, Monica Mæland, said:
The Norway-UK partnership is strong, particularly in trade and business. We have agreed to work towards maintaining our close trade relationship in the coming years.

As a first step, we have decided to initiate a dialogue on a senior officials level in order to get a better understanding of our future trading relationship and one another's trade interests. We will consult with relevant stakeholders as part of this process. The first meeting between senior officials will take place in Oslo in December.
Lord Price's visit to Oslo builds on discussions between Minister Mæland and the Secretary of State for International Trade, Dr Liam Fox, in September. While in Norway, the Trade Minister also met with the State Secretary for Foreign Affairs, Tone Skogen.
The UK is Norway's most important trading partner, and Norway is the UK's most important supplier of oil and gas. Bilateral trade in 2015 was worth £18.57 billion.
Published 15 November 2016