UK and Kosovo: continued support
Minister for Europe David Lidington has met the Kosovo Foreign Minister, Enver Hoxhaj.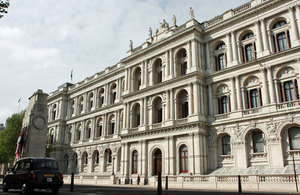 The Ministers discussed a range of issues, including Kosovo's further integration with the EU, the European Union Rule of Law Mission in Kosovo (EULEX) and joint UK/Kosovo efforts to secure further recognition of Kosovo's independence.
Speaking after the meeting the Minister for Europe said:
"I am very pleased to welcome Foreign Minister Hoxhaj to the FCO this afternoon and that the Foreign Secretary was also able to join us.
The UK and Kosovo have a strong and long-standing relationship. In our meeting I assured the Foreign Minister of the UK's continued support for Kosovo and our determination to help Kosovo further integrate itself into regional and international cooperation. We also discussed opportunities for British firms to invest in Kosovo and strengthen bilateral commercial links.
During our meeting we discussed some of the challenges facing Kosovo, including economic development, the rule of law, and the importance of implementing recommendations made by the European Commission in its 2010 Progress Report. The UK will continue to assist Kosovo to make progress in these areas, in partnership with the Kosovo Government.
We also spoke about the ongoing EU-facilitated dialogue between Kosovo and Serbia. I believe the dialogue will allow both countries to make progress towards EU accession, to improve their practical cooperation and to improve the lives of all communities in both countries.
I welcomed the Kosovo Government's willingness to cooperate with the EULEX investigation into the allegations of organised crime contained in the report by Swiss Senator Dick Marty.
Published 9 May 2011