UK and Japan in partnership
UK Foreign Affairs Minister visits Japan to discuss opportunities for our two countries to work together to tackle global challenges and boost business opportunities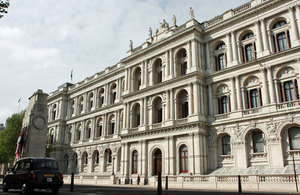 Lord Howell called on Foreign Minister Maehara during his visit to Japan
Lord David Howell, Minister of State at the Foreign and Commonwealth Office, has ended a 5-day visit to Japan. His meetings, with amongst others, Japanese Foreign Minister Seiji Maehara, State Secretary Banno and Mrs Sadako Ogata, President of Japan International Cooperation Agency (JICA), covered a wide variety of issues, a number of which present the UK and Japan with opportunities to work together to tackle shared and global challenges - issues such as energy security and international development.
During his time in Osaka, and as FCO Minister responsible for International Energy Policy, Lord Howell visited Sanyo's green energy facility, and opened a seminar on Smart Grids. This brought together leading UK and Japanese researches, as well as representatives from Japan's energy sector, business, and media, to discuss the benefits and challenges of introducing power distribution networks to aid the transition to a low carbon society. The UK believes that this kind of multi-sector discussion is essential for bringing about and promoting a low-carbon business agenda. He also delivered a speech outlining the UK's approach to securing sustainable energy resources.
A number of the Minister's meetings focussed on boosting the UK-Japan business relationship. He spoke about this and the importance of the UK-Japan relationship during a meeting with Japanese and British business representatives. Lord Howell's visit began with a business success story, as he arrived on the inaugural British Airways flight between Haneda and Heathrow airports. Lord Howell explained that the UK welcomes the "open skies" approach to air services being adopted by the Japanese Government and that we stand ready to work together on further liberalisation.
Though this was Lord Howell's first trip to Japan since his appointment as a Minister of State at the Foreign and Commonwealth Office in May 2010, this was in fact his 42nd visit. Lord Howell is well respected in Japan due to his longstanding connections through his time in government and industry.
He was European Consultant to Japan Central Railway Co. and to Mitsubishi Electric, Europe BV.
In 2001, he was awarded the Grand Cordon of the Order of the Sacred Treasure by the Emperor of Japan (Japan's highest honour for foreigners) for his work in furthering UK-Japan relations.
Until 2002 he was Chairman of the UK-Japan 21st Century Group, which was first set up by Margaret Thatcher and Yasuhiro Nakasone in 1984.
Published 25 February 2011