UK and Israel join hands to tackle cyber-attacks on national infrastructures
British Cabinet Minister announces deepening cyber co-operation during visit to Israel.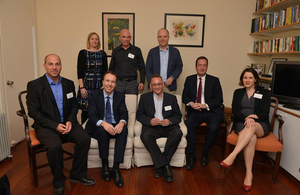 The United Kingdom and Israel will deepen co-operation to tackle cyber-attacks on their national infrastructure installations, British Cabinet Minister Matt Hancock has announced today during a visit to Israel.
Minister for the Cabinet Office Hancock said:
I welcome this opportunity to forge even closer links in the field of cyber security with our Israeli partners. The UK's world class companies and universities combined with Israel's cutting edge technology and entrepreneurial culture is an unbeatable combination.
Hancock visits Israel at a time of growing co-operation between the 2 governments to tackle digital challenges. Both the UK and Israel are founding members of D5 – a forum of 5 digitally-advanced governments established in 2014. In recent years the 2 nations have dedicated special attention to the challenge of defending public and private infrastructures systems against cyber-attacks.
In Israel, Minister Hancock launched a new academic engagement in the emerging area field of cyber-physical security, a vital area for the safety and security of both countries' economies and infrastructure. Israeli experts will meet leading UK academics engaged in cyber security research in the summer to exchange ideas and good practice that will inform research on key aspects of cyber security and help to mitigate vulnerabilities.
The Minister also announced an agreement that will see a strengthened relationship between the Cyber Emergency Response Teams of both countries (CERT-UK, and CERT-IL which is a part of Israel's National Cyber Security Authority). This upgraded co-operation will collectively increase the understanding of threats and mitigation. It will also provide greater situational awareness through sharing of incident information, malware analysis, methodologies, policies and best practice. Both governments have committed to enhance the speed at which this automation is done.
Minister Hancock held extensive talks with local official and business leaders in Jerusalem, Tel Aviv, and Beer Sheva. He will discuss bilateral relations with Israeli Prime Minister Benjamin Netanyahu, at a meeting in Jerusalem tomorrow.
In a sign of increased British interest in innovation coming from Israel, the Minister was accompanied by executives from major British companies, as well as cyber security professionals from government and academia. The delegation, led by the British Embassy's UK Israel Tech Hub, focused on sharing expertise in cyber security, good practice, identifying areas of mutual interest. It also explored forging collaborations with leaders of Israel's cyber security ecosystem, such as Ben Gurion's University CyberSpark, Israel Electric's CyberGym, and numerous private sector companies.
Published 16 February 2016