UK and Indian defence leaders meet in Delhi
The UK Defence Secretary, Dr Liam Fox, is today in Delhi to underline the commitment at the highest levels of the British and Indian defence establishments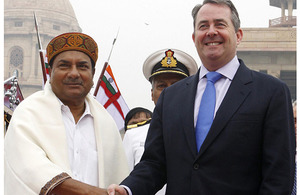 Dr Fox's trip comes seven months after his last visit to Delhi, and goes towards ensuring that defence co-operation is a fundamental pillar of the enhanced partnership between the UK and India, as set out by Prime Ministers Dr Manmohan Singh and David Cameron last July.
Dr Fox said:
In today's world of multi-layered security and economic interdependence, the UK and India are looking for relationships that are built on partnership and respect, not one-off transactions.
While in Delhi, Dr Fox met the Indian Defence Minister, Shri A K Antony, and National Security Adviser, Shri Shiv Shankar Menon, to discuss how the UK and India could best take forward defence industrial co-operation.
Dr Fox set out his strong support for the Eurofighter Typhoon's bid to meet the Indian Air Force's requirement for a medium multi-role combat aircraft.
Following the discussions, Dr Fox said:
The Eurofighter Typhoon not only provides India with cutting-edge operational capability but also unmatched potential for an enduring strategic partnership in developing future defence technology.
The past year has seen a step-change in the frequency of contact between the senior civilian and military leadership of the two countries. Alongside four visits by the ministerial team in the UK's Ministry of Defence, the Chiefs of the British Army, Royal Navy and Royal Air Force have each travelled to India to deepen strategic and operational ties with their counterparts.
In addition to defence industrial issues, the ministers discussed a wide range of strategic security challenges, including countering piracy in the Indian Ocean and long-term stability in Afghanistan.
They also welcomed the forthcoming bilateral army exercise in the UK, during July and August, which will see Indian and British troops conduct combined counter-insurgency training using the latest facilities available on the Salisbury Plain Training Area.
Published 8 July 2011