World news story
UK and India focus on stronger biotech collaboration during UKTI chief's trade trip
This was published under the 2010 to 2015 Conservative and Liberal Democrat coalition government
Dominic Jermey, Chief Executive of UK Trade & Investment will visit Bangalore, Mumbai and New Delhi from 9 to 11 February.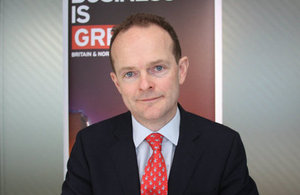 first trade trip to India for UK Trade & Investment (UKTI) CEO since taking over in 2014
Dominic Jermey to showcase UK biotech delegation at Bangalore INDIA BIO
UK invested more in India than any other G20 country in 2014
The UK and India will seek to develop closer links in the biotech and health sectors during the first trade trip to India by Dominic Jermey, who took over as Chief Executive of UK Trade & Investment last year. His visit will cover Bangalore, Mumbai and New Delhi from 9 to 11 February, during which time he will meet key government and business representatives with the aim of strengthening existing collaborations and exploring new business opportunities.
Mr Jermey will meet a delegation of the UK's top biotech and health companies working in:
oncology
drug discovery
regulatory compliance
IP
formulations
molecular diagnostics and
medical devices.
Mr Jermey's visit builds on the visit by the UK's Minister for Trade and Investment, Lord Livingston, who led one of the largest business delegations participating in the Vibrant Gujarat Summit, last month .
The new year also saw the launch of a 'GREAT Collaborations' campaign to showcase and promote collaborations of mutual benefit to India and the UK across a range of sectors, such as;
energy
healthcare
advanced manufacturing
financial services and
infrastructure
The campaign complements Prime Minister Modi's 'Make in India' campaign.
In Bangalore, Mr Jermey will participate in Bangalore India Bio, India's flagship biotech conference, which brings together stakeholders in the field of biotechnology. At the conference, Mr Jermey will meet Karnataka Chief Minister Siddaramaiah and key state government officials. He will also meet Infosys co-founder and ex-chairman NR Narayana Murthy.
In Mumbai, his focus will be on strengthening links between UK and Indian businesses. He will meet top representatives from:
Tata
RelianceADA Group
Lodha Group and
Mahindra Partners
In New Delhi, he will call on officials at the Ministry of Commerce and Industry and follow up on the UK/India Joint Economic and Trade Committee (JETCO) meeting held in London this January. To better understand the opportunities and challenges in India and encourage further inward investment in the UK he will also meet UK investors in India and top Indian business representatives from:
HCL
Tech Mahindra and
Wipro
Dominic Jermey said:
These are exciting times for businesses in India. The UK, as the biggest G20 investor country in India, is keen to further strengthen bilateral trade ties. Prime Minister Modi has rightly called the UK-India partnership an 'unbeatable combination', there is so much the UK and India can achieve together. During my visit to India, I am looking forward to discussing opportunities for further collaboration with government and industry leaders to achieve our joint ambition of making 'GREAT' things together.
Further information
see Dominic Jermey's CV
key facts:

the first showcase of the bilateral business ties between UK and India's 'GREAT Collaborations' is the partnership between UK's BP plc and India's Reliance Industries Limited (RIL) in developing and producing much needed energy. Following an initial investment by BP of over $7 billion in 2011, BP and RIL plan to invest over $1.5 billion in deep-water exploration and production by 2016, with c. 50% spent to date.
last year the UK invested $3.2 billion in India, more than any other G20 country and more than Japan ($1.7 billion) and the US (just under $1 billion), who are ranked second and third respectively, combined.
aggregating all investment over the last 14 years, the UK still ranks first among the G20 and accounts for around 10% of all investment into India over this period.
India invests more in the UK than it invests in the rest of the European Union combined.

for media queries please contact:
Stuart Adam, Director,
Press and Communications
British High Commission,
Chanakyapuri, New Delhi 110021
Tel: 44192100; Fax: 24192411

Mail to: Jagori.Dhar@fco.gov.uk
Follow us on Twitter, Facebook, Flickr, YouTube, LinkedIn, Storify, Eventbrite, Blogs, Foursquare
Document information
Published: 8 February 2015