UK and France make final step towards co-operation treaty
UK Defence Secretary Dr Liam Fox yesterday played host to his French counterpart in London to exchange the ratified Defence and Security Co-operation Treaty between the two countries.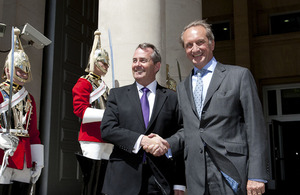 The meeting between Dr Fox and the French Defence Minister, Gerard Longuet, was the final step before the UK-France Defence and Security Co-operation Treaty formally comes into force on 1 July 2011.
The treaty was signed at last November's bilateral Summit by French President Nicolas Sarkozy and British Prime Minister David Cameron.
The programme of co-operation under the bilateral treaty was the main focus of yesterday's discussions, with the ongoing operations in Libya and Afghanistan and NATO reform also on the agenda.
Speaking after the meeting, Dr Fox reiterated the importance of closer co-operation.
He said:
The Defence and Security Co-operation Treaty marked a new chapter in our long history of bilateral co-operation and I am delighted to be exchanging the treaties. It was a natural, and logical, step change in our relationship.
France is the UK's natural partner in Europe for defence co-operation. With France, we have some of the most capable and experienced armed forces as we are currently seeing in both Afghanistan and Libya.
We have made good progress on both armed forces and equipment co-operation in the six months since our commitment last November to work more closely together.
Monsieur Longuet concurred:
I'd like to say that I was very pleased to meet Liam Fox at the British Ministry of Defence, because we work together daily on current issues such as Afghanistan, where British troops are playing a major role, and in Libya, where the Franco-British entente has allowed us to protect those who want freedom.
We share the same vision of NATO reform, and, more generally, we're convinced that globalisation presupposes a number of countries taking on responsibilities when it comes to security, and adopting a pragmatic, realistic, multilateral approach.
The UK and France remain committed to the sovereignty, independence, territorial integrity and national unity of Libya.
Dr Fox continued:
The UK and France have shared strategic interests. Our foreign and defence policies are founded on common interests, values and responsibilities.
The Defence and Security Co-operation Treaty reaffirms our commitment to work together whenever possible to promote international peace and security and dissuade unnecessary aggression. This is what we are doing with regards to Gaddafi's brutal regime.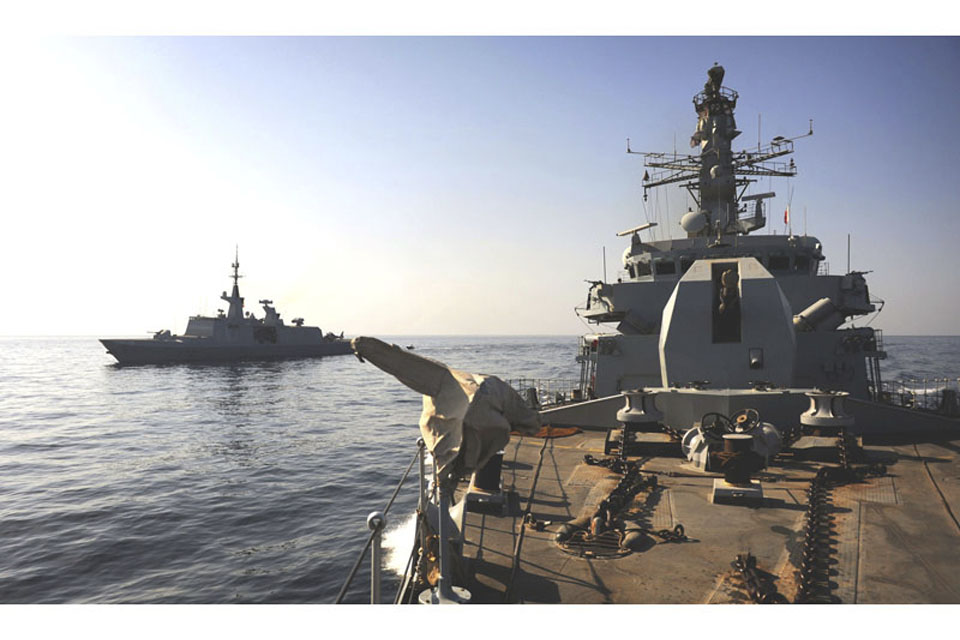 France is also a key player in the Afghan mission and in NATO. There are more than 4,000 French personnel in Afghanistan who provide security and development for the Afghan people. This makes France the fourth largest contributor to the ISAF mission in terms of personnel.
In addition to their combat role, the French Armed Forces are heavily involved with training the Afghan National Security Forces. They currently contribute a number of Operational Mentoring and Liaison Teams in Regional Command (East).
As key members of NATO and the leading military nations in Europe, the UK and France recognise the importance of a strong UK-France relationship for the defence and security of both nations.
Dr Fox said:
The UK and France are facing the realities of the tough financial climate, and it is in our best interests to work together to deliver the capabilities that both our nations need. Monsieur Longuet and I are in agreement that closer co-operation will benefit both our countries.
On the issue of NATO reform, Dr Fox said:
NATO states must prioritise and avoid costly duplication of effort. UK-French co-operation will strengthen, not undermine, transatlantic and European security, particularly since France has rejoined NATO's military command structure.
While closer co-operation will make both UK and French forces more interoperable and enable them to maximise capabilities, a key feature of the treaty is the prospect of maximising the value of investments and achieving financial savings.
Dr Fox said:
In these difficult times, the money we spend has to achieve the greatest practical effect for our national and collective security. We have to prioritise - both in what we do and through what medium we work together.
The UK and France are Europe's two biggest defence spenders and pooling the substantial resources of the third and fourth highest military spenders in the world offers huge opportunities in selected areas.
Dr Fox concluded:
We already work closely with France, and draw military, technological and financial benefit from this. Our co-operation shows the level of our ambition and our willingness to tackle difficult issues and take big decisions.
We are working closely with France because, in addition to our closely shared defence and security interests, our two countries have some of the most capable forces in Europe, and similar levels of defence spending and ambition.
Recently British troops travelled to France to conduct training at one of the country's top urban fighting areas. The UK will also play host to French troops as part of their reciprocal relationship.
Published 9 May 2011