UK and Croatia welcome Croatia's progress towards EU accession
Foreign Secretary William Hague met Minister of Foreign and European Affairs of the Republic of Croatia Vesna Pusi? today in London.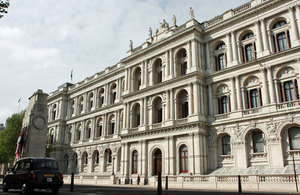 The Foreign Secretary, William Hague, and the Minister of Foreign and European Affairs of the Republic of Croatia, Vesna Pusi?, met today at the Foreign and Commonwealth Office in London. The two Ministers issued the following statement after their meeting:
"The UK and Croatia agree that Croatia's accession as the European Union's 28th Member State offers an unparalleled opportunity for both countries to forge stronger links between our governments, businesses and people. We are confident that Croatia's accession will be a success, and once the last remaining issues as outlined in the European Commission's October report have been addressed, Croatia's accession will clearly demonstrate that, despite the economic crisis, EU enlargement remains as relevant as ever.
"It is enlargement's ability to embed stability, security and the EU's values of rule of law, democracy and individual freedoms across Europe's borders that underlines our shared commitment to ensure the momentum on EU enlargement is maintained. We fully support the EU perspectives of all of the countries of the Western Balkans on the basis of strict but fair conditionality, where Croatia is well-placed and ready to share its accession expertise with her neighbours.
"At the EU level, we are committed to cooperating together, particularly on the growth agenda and to ensure that the European Single Market can play its role in the economic recovery of both Croatia and the UK. In line with this, we will make efforts to strengthen our commercial relationship and encourage trade and investment, responding to the removal of barriers to trade through the accession process.
"We reaffirm our shared belief that it remains as important as ever for NATO allies to work together, as Croatia and the UK do in Afghanistan, where Croatia already commits 320 Croatian troops alongside ISAF forces. Both countries have committed their long term support to Afghanistan and will take part in the post-ISAF training and support mission that will begin in 2015."
Published 17 October 2012