UK and China talks on foreign policy and security
Foreign Secretary meets Chinese State Councillor for talks in London about pressing international issues such as Ukraine and Syria.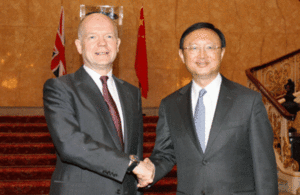 The UK and China this week held in-depth talks in London on foreign policy and security issues in the formal UK-China Strategic Dialogue.
William Hague, the Foreign Secretary said:
I am delighted to welcome Yang Jiechi on his first visit to London as State Councillor for Foreign Affairs for China. We exchanged views on some of today's most pressing international issues – such as Syria, North Korea and Ukraine. We also talked about Asia Pacific. The security and stability of this region is vital to the entire global economy.

State Councillor Yang and I discussed some of the key issues which underpin successful economies and societies such as the need for trade liberalisation, cyber security and respect for human rights.

We also agreed that our two countries have a lot to offer each other. The UK has expertise in areas such as healthcare, low carbon technology, education and professional services which can support China's planned reforms.

Equally, as Chinese companies look to build global brands, the UK's open business environment and culture of innovation offers them a major opportunity.

I was delighted today to formalise agreements with State Councillor Yang to open new Consulates General in Wuhan and Belfast. This is a clear signal of a bright future for our bilateral relations.
Further information
Follow the Foreign Secretary on twitter @WilliamJHague
Follow the Foreign Office on twitter @foreignoffice
Follow the Foreign Office on facebook and Google+
Media enquiries
For journalists
Published 28 February 2014