Press release
UK and China sign agreement to boost exports
UK Export Finance (UKEF) and the China Export & Credit Insurance Corporation (SINOSURE) have committed to a framework for strengthened co-operation, paving the way for increased UK and Chinese exports.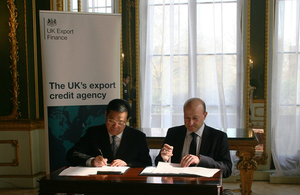 The agreement, signed today in London, creates a framework for UKEF and SINOSURE to co-operate in supporting contracts in third countries involving both UK and Chinese exports. The move is designed to enhance the two export credit agencies' (ECA) ability to support exports by increasing their risk capacity for projects sourcing goods and services from the UK and China.
The agreement will also facilitate co-operation between Chinese and UK firms as they compete for business in other countries. UKEF and SINOSURE will work together to identify opportunities for trade in capital goods, equipment and services involving co-operation between the two countries.
Louis Taylor, UKEF Chief Executive Officer, welcomed the agreement, saying:
This agreement creates huge opportunities for British exporters. UK companies can now work with Chinese firms to make their joint offering ever more competitive.

And by helping to share market expertise and increasing risk capacity, UKEF is supporting UK exporters to win contracts, not just fulfil those they have already won.
Mr Wang Yi, Chairman of SINOSURE, said:
SINOSURE welcomes this partnership. Closer co-operation will help SINOSURE and UKEF to support Chinese and UK exporters as they look to trade internationally.
Notes for editors:
UK Export Finance is the UK's export credit agency. It supports long term economic growth and competitiveness by complementing the private market with insurance for exporters, loan guarantees to banks, and support for and provision of loans to overseas buyers of UK goods and services.

Sectors in which UKEF has supported exports include: aerospace, construction, oil and gas, mining and metals, petrochemicals, telecommunications, and transport.

UKEF has a regional network of 24 export finance advisers supporting export businesses.

UKEF supports exporters with a range of products that include: * Bond insurance policy * Bond support scheme * Buyer & supplier credit financing facility * Direct lending facility * Export insurance policy * Export refinancing facility * Export working capital scheme * Letter of credit guarantee scheme

The latest information on UKEF's country cover positions can be found here.
Press enquiries:
Media enquiries: Julia Beck, Strategic Communications Manager
Published 22 March 2016