UK and China are 'partners for growth'
Prime Minister David Cameron has announced trade deals worth £1.4 billion following the UK-China Summit in Number 10. Chinese Premier Wen and Foreign Secretary William Hague attended the talks.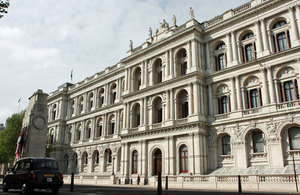 The Prime Minister said trade with China represented a "huge opportunity" for the UK, and the countries were on target to meet their aim of expanding bilateral trade to 100 billion US dollars by 2015. Agreements reached include giving UK companies greater access to Chinese markets in architecture, civil engineering and research and development. Full coverage of Summit on Number 10 website.
Premier Wen was accompanied by Foreign Minister Yang Jiechi, National Reform and Development Commission Chairman Zhang Ping, Trade Minister Chen Deming, People's Bank of China Governor Zhou Xiaochuan, and Vice Minister for Europe, Fu Ying. The Prime Minister and Foreign Secretary were joined by Chancellor George Osborne, and Climate Change and Energy Secretary Chris Huhne.
The UK-China Summit focused on joint work in three main areas: advancing opportunities for government and business, strengthening the two countries as 'partners for growth; developing closer ties in areas like education, science and culture; and advancing the UK's co-operation with China on issues of global importance like climate change, the global economy and international security and development issues.
This visit follows Prime Minister David Cameron's visit to China last November, which was the largest ever British ministerial delegation to China. It secured a range of commercial and Government arrangements, including a Rolls Royce deal worth $1.2 billion. This was followed by Vice Premier Li Keqiang's visit to the UK, when deals to the value of $2.6 billion were concluded. Visits to China by the Chancellor, Lord Green, David Willetts and others have helped further strengthen economic cooperation, trade and investment.
Published 27 June 2011