Press release
UK and China agree £2 billion digital media link-up
Creative companies from the UK and China are set to benefit from £2 billion worth of trade and investment opportunities.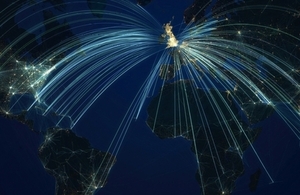 Creative companies from the UK and China are set to benefit from £2 billion worth of trade and investment opportunities, Vince Cable announced today (29 May 2014).
As part of an 8 day visit to China, the Business Secretary was in Qingdao, known as the 'Cannes of China', to formally launch the Global Digital Media and Entertainment Alliance between the UK and China.
The Alliance was agreed during the summit between China's Premier Li Keqiang and Prime Minister David Cameron during his visit to China in December 2013 and will promote long term relationships in the digital media and entertainment sectors, opening doors to the Chinese market for UK companies.
Vince Cable said:
The UK's £71 billion creative sector is one of our most important industries which help define our country's brand around the world. Whether it is television programmes such as Sherlock, great fashion from Vivienne Westwood or innovative technology firms such as Myndplay, British creative products are in high demand with our total exports to China reaching more than £1 billion per month.

This new plan will deliver a massive boost to UK creative exports and position the UK as the favoured location for inward investment, creating more sustainable jobs and building a stronger economy.
Vince Cable launched the Alliance at the Technology Innovators Forum (TIF-IN) which encourages collaboration on delivering the next generation of products in music, film, digital and video games.
TIF-IN encourages collaboration on delivering the next generation of products in music, film, digital and video games. Previously held in LA and London, the TIF-IN event in China will bring together the most exciting Chinese and British creative technology companies with high profile political, financial and entertainment stars.
So far TIF-IN has involved over 100 companies and delivered over £75 million of business. The events have provided a platform to increase investment and partnership opportunities in the UK.
UK and Chinese companies present at the event include Tencent, Youku, BBC Worldwide, Pinewood Studios, Xiaomi, Universal Music Group International, ITV Studios and SOHU. Michael G Wilson from EON Productions, producer of the James Bond films and Gareth Neame from Carnival Films, producer of Downton Abbey will also attend.
The UK's creative industries, which includes the film, television and music industries, are now worth £71.4 billion per year to the UK economy – generating just over a staggering £8 million pounds an hour.
Tim Davie, CEO BBC Worldwide and Director, Global, said:
TIF-IN China provides a fantastic opportunity for UK and Chinese businesses to come together in an environment designed to stimulate trade, share experience and build partnerships and networks.

The UK has world-class tech and creative sectors and events like TIF-IN help to showcase and connect them to important overseas economies such as China.
Lucian Grainge CBE, Chairman and CEO, Universal Music Group and UK Trade Ambassador said:
The TIF-IN events demonstrate what can be achieved when you bring together leaders, innovators and entrepreneurs across the creative and technology sectors. Our 2 industries are major drivers of economic growth and when we work together through international forums such as TIF-IN we are breaking down trade barriers and building real and lasting business partnerships.
The forum will be held by British organisations: UK Trade and Investment, BBC Worldwide, BBC and Founders Forum with Universal Music Group.
Notes to editors:
TIF-IN was developed in concept by industry and government through UKTI's Business Ambassador Programme that uses business leaders to promote the UK's excellence internationally and highlight trade and investment opportunities. TIF-IN events are organised by UK Trade and Investment in conjunction with host governments and industry partners.

TIF-In China will be chaired by Lord Marland, Chairman Commonwealth Business Council, and is led by Lucian Grainge CBE, Chairman & CEO of Universal Music Group, Tim Davie, CEO BBC Worldwide and Director, Global, Brent Hoberman, co-Founder, Founders' Forum, TIF-IN is a collaboration between UK Trade and Investment, Universal Music Group, BBC Worldwide and Founders' Forum with the BBC. A selection of the most innovative creative and technology companies and high level entertainment studio executives and investors from the UK and China will attend the Forum.

The 2 day event will be hosted by the city of Qingdao in partnership with Future TV, CNTV and Champion Media and enriched by high profile social gatherings to celebrate the best of China and UK Entertainment talent.

It follows and builds on the successful innovation forum held in Los Angeles in February 2013 with Universal Music Group and London in October 2013, hosted by the BBC and BBC Worldwide, which included such notable figureheads from the industry as Jeffrey Katzenberg (Dreamworks), Jimmy Wales (Wikipedia), Sir Martin Sorrell (WPP), Tony Hall (Director General BBC) and will.i.am and attended by the Prime Minister David Cameron.

The GREAT Britain campaign is the government's most ambitious international marketing campaign ever and showcases the very best of what Britain has to offer in order to encourage the world to visit, study and do business with the UK. The campaign is currently active in over 144 countries, including China. GREAT messages are organised around a series of 'pillars' including "Creativity is GREAT".

As part of the 'GREAT' campaign, in 2014 UKTI is also running the Great Weeks series - an event platform that uses the collective resources and talents of both government and business to create a concentrated burst of activity, drawing attention and opportunity in key markets. The sectors covered are Creative Industries, Retail, Luxury and Food & Drink. Markets include Turkey, Japan, Russia, UAE, China and Brazil.

UK Trade and Investment (UKTI) is the government department that helps UK-based companies succeed in the global economy. We also help overseas companies bring their high quality investment to the UK's economy – acknowledged as Europe's best place from which to succeed in global business. UKTI offers expertise and contacts through its extensive network of specialists in the UK, and in British embassies and other diplomatic offices around the world. We provide companies with the tools they require to be competitive on the world stage. For more information on UKTI, visit www.gov.uk/ukti.
Published 29 May 2014