UK and Afghanistan join forces
Political Counsellor and Defence Attache visit Afghan National Army's Command and Staff College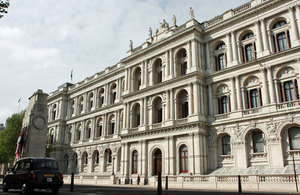 The links between the Afghan and UK armed forces were the focus of a visit to the Afghan National Army's Command and Staff College on Monday 11 July by Defence Attache, Colonel Iain Smailes and Political Counsellor, Richard Berthon.
Mr Berthon highlighted last week's announcement of the creation of an Afghan National Officer Academy by President Karzai and Prime Minister, David Cameron.
The new Afghan National Officer Academy will be modelled on Sandhurst Military Academy in the UK and will be based in Qargha, west of Kabul. Some Afghan officers already have experience of Sandhurst training after completing their officer training in the UK.
When the Afghan National Officer Academy is opened in 2013 more than 100 UK troops will be involved in training potential Afghan officers. Each year 1350 potential officers will be trained in tactics and leadership. At the end of the training officers will be ready to lead platoons and advance to specialist training.
Colonel Smailes and Mr Berthon's meeting with the Strategic Command and Staff Course also discussed the UK's governance, development and security policies towards Afghanistan and the wider region. The UK's recent Strategic Defence and Security Review was also presented. Questions from the audience covered the regional security challenges, international support to Afghanistan and other countries, border issues and the threat from terrorism.
Political Counsellor and Defence Attache visit Afghan National Army's Command and Staff College
Search the news archive
Published 13 July 2011