News story
UK aid to help thousands more people affected by ongoing Syria crisis
More details of what will be achieved by our humanitarian aid to both Syrian refugees and those still in need inside Syria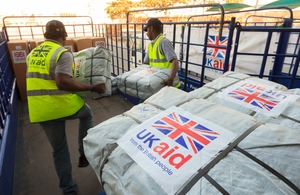 The UK has set out more details of what will be achieved by our humanitarian aid to both Syrian refugees and those still in need inside Syria; it includes:
help in generating income from livestock for about 30,000 households in Syria and Lebanon
shelter, blankets, and clothing for 65,000 vulnerable people within Syria
shelter for 11,500 refugees in Lebanon
counselling, legal and education services for 13,700 refugees
These latest programme allocations are:
£10 million to the Food and Agriculture Organisation to support Syrian refugees and local communities in Syria and Lebanon to generate a sustainable income through livestock production. 3,180 households will receive training; 2,367 help with feeding their livestock and 27,340 with vital vaccination to protect their livestock against disease.

£3.7 million to the International Organisation for Migration to provide up to 65,000 displaced individuals with lifesaving assistance through shelter and non-food items distribution. It will also support better information management to ensure that aid gets to those who need it, in time and in a cost effective way.

£3 million to the Norwegian Refugee Council to provide shelter, essential non-food items such as blankets and clothing and access to counselling and legal assistance, as well as providing education and recreation facilities for refugee youth. The funding will provide shelter for 11,500 vulnerable individuals affected by the Syria crisis and provide counselling, legal and education services for 13,700 refugees in Lebanon.
For full details of the UK's Syria crisis humanitarian response, please see: Syria crisis: Latest updates on UK aid
For all news on how the UK government is responding to events in and around Syria, please visit: UK and Syria
Published 17 September 2013