UK-Afghanistan Enduring Strategic Partnership
Foreign Secretary William Hague made a statement on the Enduring Strategic Partnership between the UK and Afghanistan.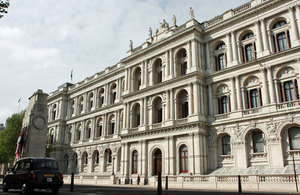 The Foreign Secretary said:
"I wish to inform the House that the Foreign and Commonwealth Office is today publishing the Enduring Strategic Partnership Document between the UK and Afghanistan which was signed by the Prime Minister and President Karzai on 28 January, 2012.
The Enduring Strategic Partnership signals our shared vision of a secure, stable and prosperous Afghanistan able to maintain its own security and prevent the country from again being used as a safe haven for international terrorists
Building on the strong message from the Bonn Conference last year of the international community's commitment to Afghanistan post-2014, the Enduring Strategic Partnership demonstrates our long-term partnership with Afghanistan.
The document reaffirms both countries' commitment to continuing partnership and friendship. It makes clear that we will have a wide-ranging relationship with Afghanistan which will continue beyond transition and the drawdown of international combat troops.
The Partnership sets out our agreement to cooperate on Political Dialogue, Security, Governance and Rule of Law, Economic and Social Development, and Cultural Links."
Published 9 February 2012