World news story
U21 Championship 2015 travel advice
Travel advice for fans travelling to the Czech Republic for the Under 21 Football Championship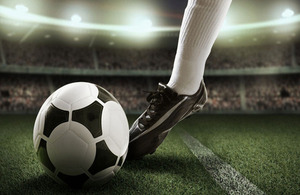 Under 21 Football Championship will be held in the Czech Republic from 17 – 30 June, in the following towns: Prague, Olomouc and Uherske Hradiste.
As well as this advice, check out our travel advice for Czech Republic.
Passports and visas
You don't need a visa to travel to the Czech Republic, but your passport should be valid for the duration of your stay.
Remember your European Health Insurance Card (EHIC) but also take out travel insurance, even if you're only going for one night - it could save you a lot of money if you get into difficulties.
You should carry your passport with you at all times for identification purposes as police officers may fine you or take you to the police station to establish your identity if you fail to do so. You should be ready to produce an ID (e.g. driving licence, photocopy of passport) at the entrance to the stadium.
If your passport gets lost or stolen while in the Czech Republic, you will need to obtain an Emergency Travel Document from the British Embassy Prague.
Getting to the stadiums
PRAGUE
Stadium Eden
Address: U Slavie 1540/2a, 100 00 Praha 10
The Eden Stadium is located toward the south east of the city of Prague, about 4 kilometres from Prague's historic centre and main railway station (Hlavní Nádraží). The stadium lies a 20-minute walk away from Prague Vršovice train station, which has regular service with the main railway station and destinations toward the south and east of the city. It is easier to reach the stadium by trams, lines 4, 7, 22, and 24 pass right by the stadium.
Information on Prague local transport connections is available on the Prague City Transport website

If travelling by taxi, you are advised to use major taxi companies, such as Tick Tack Taxi (+420 721300300), AAA (+420 23311 3311) or Profitaxi (+420 26131 4151). If you do pick up a taxi on the street, always check the per kilometre price, which should be clearly marked on the side of the taxi, before getting in. Some taxis operating in areas frequented by tourists can charge highly inflated prices.
Stadium Letná (Generali Arena)
Address: Milady Horákové 1066/98, 170 82 Praha 7 – Letná
The GENERALI Arena is located in the Letná area just north of Prague's old town. The walk from the Old Town Square takes about 20 minutes. Walk north over Pařížská street, cross the Vltava river, and then Letná Park. The walk from Prague Castle takes about just as long. If you come from the southern part of the city centre or Prague's main railway station (Hlavní Nádraží), you can also use the metro. Take the green metro line A from, for example, the Muzeum stop, and get off at the Hradčanská stop. From there it is a 5 to 10-minute walk. Alternatively, there are various trams that stop right in front of the stadium at the Sparta stop. These are line 1, 5, 12, 25, and 26. Line 5 and 26 can be taken from the old town, and line 12 from the west bank of the river and Nádraží Holešovice railway station.
OLOMOUC
Andrův Stadium
Address: Legionářská 1165/12, 771 00 Olomouc
Andrův Stadion is located just north of Olomouc's historic city centre. The walk from the central market square takes only a few minutes. Olomouc's main railway station is a little further away, east of the city centre, and it takes about 25 minutes to walk from there to the stadium. Regular trains depart from Prague to Olomouc. The journey takes just over two hours.
UHERSKE HRADISTE
Stadium Uherské Hradiště (Full name: Mestsky Fotbalovy Stadion Miroslava Valenty)
Address: Stonky 566, 686 01 Uherské Hradiště, Czech Republic
The stadium is located south east of Uherské Hradiště historic city centre. The walk from the central market square takes only about 5 minutes. There are regular trains and buses from both Prague and Olomouc.
Tips
As in any other city beware of pickpockets and bag snatchers at airports, railway stations, around the town centre and when using public transport. Only carry what you need, leave spare cash and valuables in hotel safety deposits.
British Embassy contact details
British Embassy Prague
Thunovska 14
116 00 Prague 1
Tel: (00420) 257 402 111
Fax: (00420) 257 402 280
E-mail: prague.consular@fco.gov.uk

Opening hours: Mon-Thur 9am-12pm, 2pm-5pm Friday: 9am-12pm, 2pm-4pm
Emergency services numbers
Emergencies 112
Ambulance 155
Police 158
Fire brigade 150
Published 27 May 2015