Tylan 200mg/ml Solution for Injection - Product defect recall alert
Product defect recall alert for Tylan 200mg/ml Solution for injection - Vm 00006/4098 by Elanco UK AH Ltd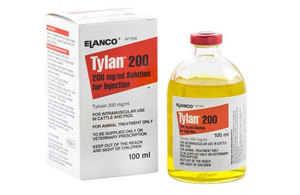 We wish to make wholesalers and veterinary surgeons aware that Elanco UK AH Ltd has issued a recall of Tylan 200mg/ml Solution for Injection (Vm 00006/4098). This is a precautionary measure as sterility cannot be assured. This only affects the batch mentioned below:
| Batch No. | Description | Expiry |
| --- | --- | --- |
| C967336A | Tylan 200mg/ml Solution for Injection | Use before 07/2020 |
Elanco UK AH Ltd is contacting wholesale dealers and veterinary surgeons to examine inventory immediately and quarantine products subject to this recall. We would like to stress that this issue only applies to the batch listed above. Any other batches of Tylan 200 Injection are not impacted and may continue to be distributed.
For further information regarding the recall, please contact Ms Victoria Haslingden 01256 779519 or email elanco_orders@lilly.com
Published 15 May 2019